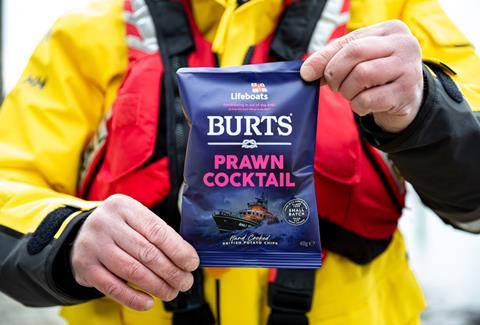 Snack maker Burts Chips has announced it will be doubling its initial donation to charity partner the Royal National Lifeboat Institution (RNLI) after the success of sales from its limited-edition Prawn Cocktail flavour that was launched earlier this year.
The special edition flavour outperformed its original trajectory and has done so well with consumers that Burts has doubled its initial donation to the RNLI and will now be giving the charity £20,000 towards the crucial work they do in saving lives at sea.
Commenting on the new product, Dave McNulty, CEO of Burts Snacks, said: "Caring about our community and charities close to our heart is something that is extremely important to us at Burts. That's why this incredible achievement has been made all the better by being able to donate more to the RNLI, a charity that do fantastic work in keeping our coastlines safe.
"Creating the Prawn Cocktail flavour was a daunting challenge as it's much-loved classic flavour, but the response from customers has been remarkable. We hope to keep on innovating and creating authentic flavours with local suppliers and growers and continue to fundraise for the RNLI, building on the success of what we've already achieved."
The pack, featuring a design in collaboration with the lifeboat charity, was newly available in April this year in both 40g and 150g sized bags, to coinside with its second year of partnership. Holly Young, RNLI partnerships manager, said: "We are very grateful for Burt's support, the money they have raised through sales will go towards helping us continue saving lives at sea. It's through donations that we can provide our lifesavers with the training, equipment and facilities they need to help those in difficulty."