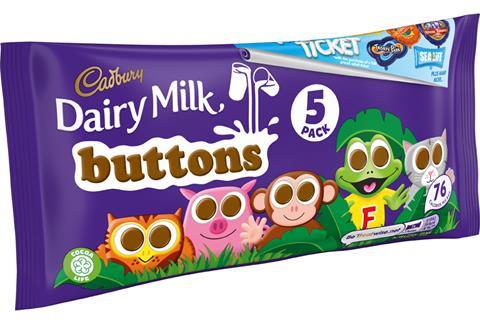 Cadbury is joining forces with Merlin Entertainments again for its summer promotion.
The on-pack promotion, which will be available for six months, offers a free standard ticket with every purchase of a full-priced adult ticket to attractions including Alton Towers Resort, Chessington World of Adventures Resort, Thorpe Park Resort and the legoland Windsor Resort.
The promotion will run across products from Cadbury's Chocolate and Biscuits ranges for the full six months, and Cadbury's Seasonal range will join the promotional line-up when in market. The offer will appear on more than 68 million packs of 21 different SKUs.
Sophia Geddes, brand manager for Cadbury at Mondelēz International, said: "Merlin's family attractions are visited by millions of people each year, existing to create magical experiences for their guests. This is what makes this partnership the perfect fit, supporting Cadbury's purpose to inspire joy and generosity for families this summer and beyond.
"We know this promotion is important to families but this year we know it's even more relevant for our consumers who are seeking more opportunities to enjoy quality time with their loved ones. We've had six successful years working with Merlin and this year will be no exception. In fact, shoppers have loved this promotion so much in previous years that we have decided to extend the offer from four months to a massive six-month period and have also added more products to the on-pack range.
"This promotion gives consumers 'something more' on brands they know and love, by rewarding them with a 2-for-1 instant voucher to book online to be able to visit top UK attractions – with an incredible potential saving of up to £53. We recommend retailers give the promotional range strong off-shelf feature to ensure maximum visibility and help to drive their sales of these ranges."
The on-pack promotion will be supported with a campaign between July and August across social and digital advertising as well as in-store marketing.