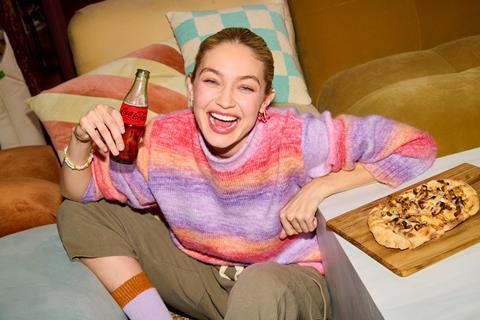 Coca-Cola has launched a new global brand campaign and platform, A Recipe for Magic, celebrating the 'magic' of shared meals and the connections that happen when we get together with others to enjoy a meal.
Featuring foodie and mum, Gigi Hadid, the campaign's aim is to encourage people to get together and share more than just the food on the table.
Elif Kaypak, global brand marketing lead at The Coca-Cola Company, said: "At Coca-Cola we've long recognised the inherent power of meals as a connecting force for positive shared experiences. When we looked at the data on this and saw people's attitudes towards the meals occasion, it was interesting to note that despite living in a hyper-connected world, people are longing for greater connection. Research tells us people wish they could share a meal more often with loved ones and that sharing a meal reminds them of the importance of connecting with others."
According to research, one in two global shoppers surveyed agreed that Coca-Cola helps make gatherings more enjoyable and approximately 86% of the brand's global shoppers surveyed agreed that Coca-Cola makes any meal better.
Martin Attock, vice president of commercial development at Coca-Cola Europacific Partners GB, said: "Cola is the most popular sparkling soft drink consumed at meal times in GB (Kantar data) but many shoppers are still looking for meal planning inspiration. Cross-category displays and merchandising solutions in store can help increase basket spend, prompting shoppers to add a soft drink to their evening meal purchase. This could be Coca-Cola Zero Sugar alongside a family-sized pizza or a Mexican fajita kit. 'A Recipe for Magic' campaign will help shine a light on the role Coca-Cola has during these shared mealtime moments."