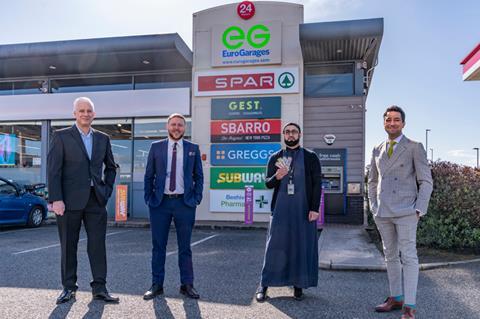 Vape company Dinner Lady has signed a deal with EG Group, as the first major national supplier of its new disposable Vape Pen e-cigarette.
The new deal marks an expanded and strengthened strategic partnership between the two Blackburn-based firms.
The Vape Pen is available in all 402 EG forecourt service stations across England, Scotland and Wales, in a range of eight premium Dinner Lady flavours.
The disposable Vape Pen e-cigarette is designed to support adult smokers making the switch to an alternative to cigarettes, and as a back-up device for established vapers when out and about.
Priced at £4.99, the Vape Pen – pre-filled with Dinner Lady's premium nicotine salt e-liquid – offers smokers the equivalent of a pack of 20 cigarettes.
Dinner Lady chief marketing officer John Taylor said: "We are delighted to launch the Dinner Lady Vape Pen into EG Group as new solution in forecourt retail to help mitigate declining tobacco revenue, in a simple format which requires no specialist knowledge for staff or for consumers.
"The vape category – in particular disposable vape pens – has become increasingly important for forecourt and convenience retail, especially during the past year with consumer shopping habits ever-changing and adapting, in addition to the continuing consumer search for a less harmful alternative to smoking tobacco.
"Disposables have become a key product of choice for both experienced vapers and adult smokers looking for an alternative to cigarettes, and the Dinner Lady Vape Pen has been created after hundreds of hours of research, development and consumer feedback to meet their needs."
The firms' existing partnerships have seen Dinner Lady's premium e-liquids stocked in EG's forecourt stores and a series of vape concession outlets opened across the country.
EG Group vape category manager Bilal Ahmed said: "The new Dinner Lady Vape Pen is an excellent addition to the company's existing range within our forecourt environments. They offer consumers a true premium vape experience in a package ideally suited to convenience retail."
Taylor added: "We work closely with the EG teams to ensure we offer the right products for their forecourt convenience outlets around the world. Dinner Lady's premium products are well suited to the high-quality forecourt environments that EG is well known for."