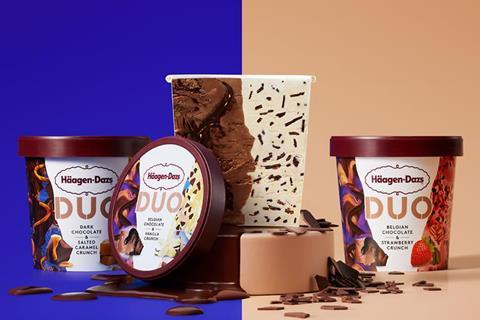 Luxury ice cream brand Häagen-Dazs is aiming to shake up the ice cream category by launching a 2-in-1 ice-cream, Duo; a multi-texture creation in three flavours: Belgian Chocolate & Vanilla Crunch, Dark Chocolate & Salted Caramel Crunch and Belgian Chocolate & Strawberry.
The hybrid format brings together two contrasting yet complementary flavours to create one decadent tub and responds directly to research that shows innovation is what 53% of luxury ice shoppers are seeking.
The new concept features redesigned packaging for more impact on shelf, along with an accessible and simplified price point aligned to the brand's core range. The new launch will be supported by a £3m ATL media campaign and an extensive shopper marketing plan to introduce the product in convenience, wholesale, and grocery.
Kat Jones, marketing manager at Häagen-Dazs UK, said: "This new format sees two worlds collide and we're confidently predicting consumers will absolutely love it! Product quality and distinctiveness are most important to buyers seeking a luxury experience and our DUO range responds to that demand and provides an ideal offering.
"This launch is one of our most sophisticated, it really taps into the opportunity to fulfil shoppers' increased desire for chocolate indulgence, of which 77% of consumers assuage with ice cream."
Duo is available in 420ml tubs with an RSP of £4.99.