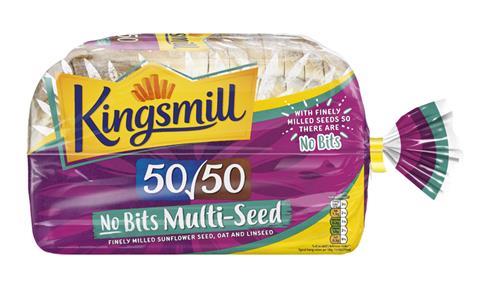 Kingsmill has unveiled two new loaves – Kingsmill 50/50 Multi-Seed and Kingsmill 50/50 No Bits Multi-Seed – made with 50/50 white and wholemeal flour for added daily wholegrain.
Kingsmill 50/50 No Bits Multi-Seed, baked with milled sunflower, oats and linseed, gives the benefits of wholegrain from a 50/50 flour base with protein and fibre from seeds, for a soft slice without any of the bits.
Kingsmill's 50/50 Multi-Seed: baked with sunflower, pumpkin and linseeds is a source of fibre, protein and omega 3 with a crunch.
Matthew Cullum, marketing director at Kingsmill, explained: "Health is a major driving trend in bread, with shoppers looking for easy everyday options to make that healthy switch. Nutritionists agree that as a nation we should be eating more wholegrain – and that's where our latest innovation comes in.
"The launch of Kingsmill 50/50 Multi-Seed and Kingsmill 50/50 No Bits Multi-Seed brings a strong new proposition to the seeded fixture that hasn't been seen before. It taps into two growing areas of bread: healthier white and seeded. The result is a quality, great value branded range, which we know is on trend for our core audience in particular, helping them make that healthy swaps."
The launch will be supported by an integrated marketing campaign spanning all key consumer touchpoints, including shopper, TV, radio, OOH, digital, PR and influencer support. The new loaves will also feature as part of Kingsmill's sponsorship of The Simpsons on Channel 4 and All4. From February, TV idents around the show will broadcast the launch into millions of homes each week.