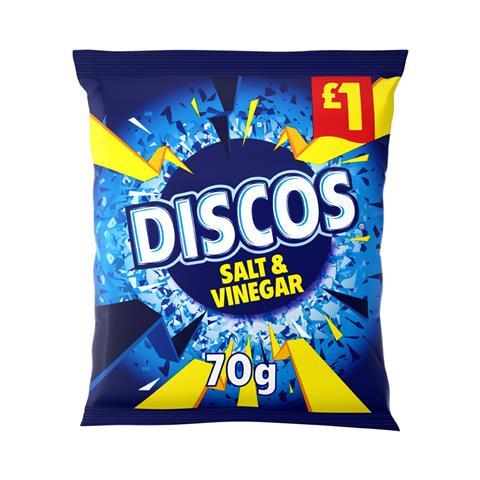 KP Snacks has announced that its Discos snack brand will be added to its £1 price-marked pack (PMP) range with the launch of Discos Salt & Vinegar £1 PMP (70g).
The Discos £1PMP joins other products in the KP Snacks PMP range, including McCoy's Fire pit and Hula Hoops Big Hoops BBQ, and features the £1 flash that has been incorporated across the entire portfolio.
Matt Collins, trading director at KP Snacks, commented: "It's really exciting to be introducing this new PMP as we're always looking to add value to our range. £1 PMPs have seen significant growth in the last year and the role of PMPs in convenience is extremely important as shoppers' budgets are squeezed.
"For retailers to win, it's key to offer the right core range in the right formats and we're confident that the Discos range extension will be a great addition to convenience shelves.
"We are committed to helping retailers succeed within a challenging market and to do this, we have ensured our products make a compelling choice for shoppers at point of purchase, which includes providing a broad range of PMPs that shoppers can trust, recognise and recall, including our much-loved Discos brand."