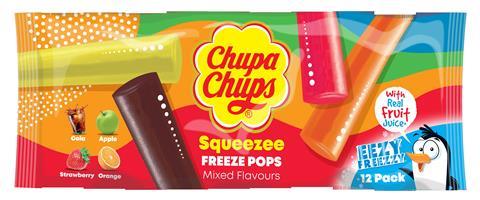 A new Chupa Chups freeze pop has been launched by licensed product brand developers and distributors Rose Marketing UK.
The range is inspired by the brand's popular flavours: strawberry, cola, apple and orange.
Two formats of the freeze at home pops are available: the Squeezee and the Chupa Chups Strawberry Triangles.
Marta Ballesteros, area licensing manager of Perfetti Van Melle, the owner of the Chupa Chups brand, commented: "We are very pleased with this amazing product. These freeze pops are a natural extension that will allow our consumers to experience our brand in a new, refreshing and exiting way. It will be a great success."
Carl Richardson head of commercial brands at Rose Marketing UK, added: "We are really excited to be working with Perfetti Van Melle on one of their amazing brands. Chupa Chups Freeze Pops are exceeding expectations already, so the future looks incredibly bright."