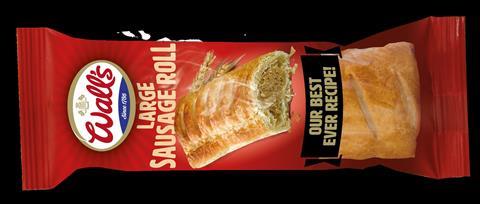 The Compleat Food Group has announced the biggest relaunch of the Wall's Pastry range in the brand's history, as it aims to reinforce its reputation for high quality, great taste and exceptional value with both new and existing shoppers.
The relaunch of the brand's sausage roll range includes Wall's biggest recipe change for almost a decade. Developed after a year-long project involving in-depth consumer research and testing, Compleat says it has enhanced every element to create Wall's best sausage roll recipe to date.
The new sausage rolls, made with premium cuts of pork shoulder and pork belly, are seasoned with a secret blend of herbs and spices developed by the Wall's team of chefs. The upgraded sausage is wrapped in 64 layers of pastry, complete with a new glaze and golden colour.
Critical to creating the new recipe was a series of independent research studies, designed to understand what makes the perfect sausage roll. Consumers rated the new recipe significantly higher across six categories including appearance, filling, texture and flavour.
All packaging across the Wall's pastry range has also been given a refresh, with a bold redesign that includes product photography for the first time to enhance standout on shelf.
The new recipe will roll out across the entire Wall's sausage roll range during June and is expected to further build on the strong growth of the brand over the past year.
The launch will be backed by a significant programme of support including digital media, social media, consumer sampling, print advertising, PR and in-store promotional activity.
Jason Manley, brand director at Wall's Pastry, said: "Our Wall's Rolls range is a clear market leader, achieving record sales and growing +21% over the past year (Kantar data). This relaunch represents a major investment in our brand quality and our ambition to delight our loyal consumers every single time. As the beacon brand in the category, our focus is on drawing new shoppers to the fixture and fuelling category growth through continuous improvement and product innovation.
"We've listened to our consumers through every step in the process to create a sausage roll that's better in every single way and has fresh new packaging to match. As always, at our core remains our firm commitment to the incredible great taste, high quality and exceptional value that makes Wall's Sausage Rolls' Britain's favourite."
The sausage rolls to feature the new recipe include: Jumbo Sausage Roll (130g); four-pack Sausage Rolls (220g); twin-pack Sausage Rolls (160g); 12 Cocktail Sausage Rolls (240g); 10 Snack Sausage Rolls (270g); 10 Pack Sausage Rolls(550g); and 14 Dinky Sausage Rolls (140g).