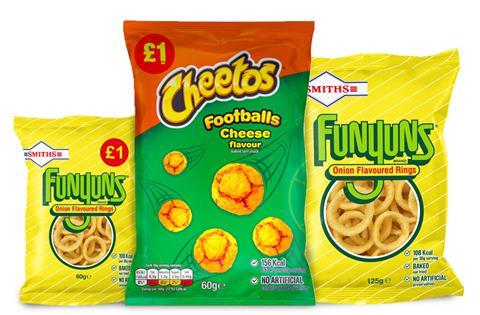 PepsiCo is introducing £1 RRP price-marked packs of Cheetos Footballs and Smiths Funyuns Onion Flavour Rings.
"Enjoyment is the number one reason for shoppers buying savoury snacks," explained Ashley Birch-Ruffell, brand manager for Cheetos and Smiths at PepsiCo.
"Both Cheetos and Funyuns allow retailers to stock fun, much-loved brands, while providing options for shoppers seeking tasty snacks and good value for money. Shoppers already know and love our range of Smiths snacks, such as Frazzles, Chipsticks and Snaps. We hope the launch of Funyuns will benefit from this existing popularity as Smiths extends its snack offering into the Onion Rings segment."
He added: "Cheetos Twisted, our existing £1 RRP price-marked pack, was a big hit with consumers at launch, and remains the number two best-selling snack. With such a proven track record for the brand, we have high hopes for the launch of Cheetos Footballs."
PepsiCo will be supporting the launch with in-store marketing.