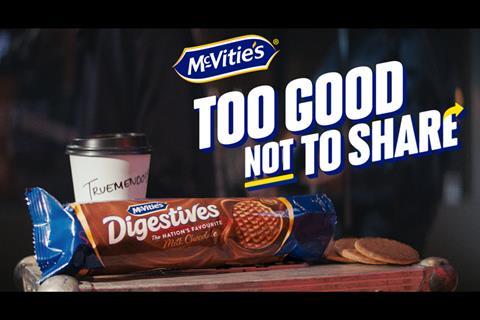 Snacking company Pladis has just launched a £3m masterbrand campaign, 'Too Good Not to Share', for its McVitie's brand.
The campaign, which features two new TV creatives and a 'Digigestives' digital gifting activation, will debut a refreshed look for the brand.
The updated packaging will roll out in store from the end of January next year, while McVitie's products including McVitie's Digestives, McVitie's Ginger Nuts and McVitie's Fruit Shortcake will also have refreshed pack design to further align the brand identity across the McVitie's range.
The brand's 'Too Good Not to Share' campaign will introduce UK shoppers to the new-look packs and focus on the power of sharing and connection – plus, the role biscuits can play in bringing people together. It will roll out across TV, VOD and social media in a bid to drive incremental sales among younger consumers.
"Shoppers tell us that our biscuits are so inexplicably tasty, they can't help but share them – even at the most inopportune moments," explained Emma Stowers, brand director for McVitie's at Pladis UK&I. "It's this insight that inspired our masterbrand campaign and is brought to life with our two new TV creatives.
"We're really proud of the fact that our biscuits continue to give people across the UK an opportunity to connect with one another, particularly during this difficult year. With 18 decades of experience under our belt, we like to think we know what makes a good biscuit – and we're excited to be bringing our range of bestselling biscuits to a new generation of Brits with our latest campaign."