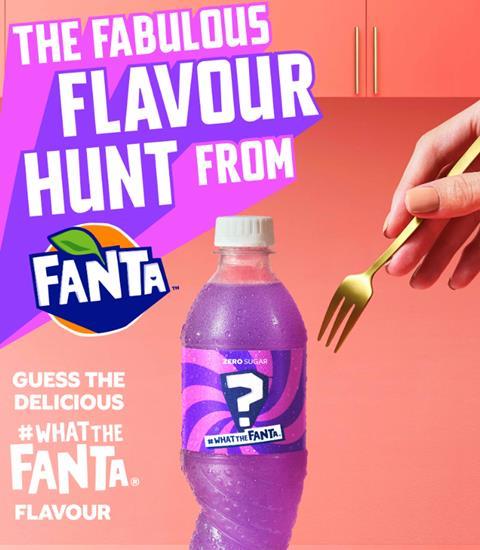 Coca-Cola Europacific Partners (CCEP) has announced the return of #WhatTheFanta for the fourth year running, bringing mystery back to the soft drinks aisle following another successful campaign in 2022.
CCEP hopes the new 'Fabulous Flavour Hunt' will make the campaign more playful and build momentum for GB's number one flavoured carbonates brand – which is nearly four times bigger than its nearest competitor and in 20.3% growth (Nielsen).
The new, purple-coloured mystery Fanta variant is currently being rolled out in 330ml price-marked cans 500ml and 2ltr PET plain pack bottles.
To solve the flavour mystery, consumers have to scan the QR codes on-pack to unlock a series of interactive online clues hidden within episodes of the 'The Fabulous Flavour Hunt', with more hints on Fanta's social channels – which will develop across several weeks, to sustain interest.
This year's #WhatTheFanta innovation will be supported by a multi-million-pound marketing campaign in the spring, including digital and out-of-home advertising, paid social media and pos material to create theatre in-store and online. Convenience retailers can request pos kits from the pos shop on My.CCEP.com.
Martin Attock, vice president of commercial development at Coca-Cola Europacific Partners GB, said: "#WhatTheFanta brings together everything Fanta does best – disrupting the category by entertaining its growing fanbase while bringing innovative new flavours to market in exciting new ways to recruit new fans. Our popular Fanta brand is for the first time worth over £300m, which has in part been fuelled by the demand for our zero sugar flavoured variants and high profile campaigns such as this and our Halloween activity.
"The launch of the purple-coloured #WhatTheFanta variant follows a hugely successful campaign in 2022, which saw a mystery bright pink variant drive brand awareness among consumers. In fact, 61% of #WhatTheFanta sales last year were incremental to Fanta, proof that the campaign attracts more shoppers to the brand and is sure to drive sales for retailers for the fourth year in a row."