PRA chairman Brian Madderson is delighted to have been presented with a Lifetime Achievement Award.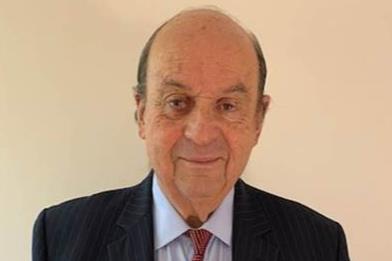 Brian Madderson's Lifetime Achievement Award, announced at last month's virtual Forecourt Trader Awards, was a much-deserved recognition of his service to the fuel retailing community over many years.
Since becoming chairman of the Petrol Retailers' Association in 2009, Brian Madderson has championed the needs of independent fuel retailers nationwide with great energy and determination. He was extremely touched to be presented with the award: "This is a massive and hugely proud moment for me," he says. "I'm absolutely thrilled that after 11 years at the helm this has been offered to me."
Brian brought with him immense experience and understanding of the challenges facing the fuel retailing sector following 20 years as managing director of one of the biggest independent service station groups – George Hammond plc. He therefore had an instinctive sense of duty to protect the interests of his many thousands of retailer members. Whatever the issues at hand – challenging fuel duty rises, new fuels, the future of ATMs, forecourt crime, lobbying over business rates, tackling cowboy car wash operators, Brian has led the charge in the interest of his members.
His doggedness in lobbying relevant government departments – with their constantly changing personnel – has ensured a constant flow and exchange of knowledge where it matters most. It takes great patience and diplomatic skill to lobby government ministers and Brian has it in spades. He is continually trying to get the attention of the appropriate movers and shakers within a government, securing face-to-face meetings, and getting his point across professionally and within a limited time. The PRA's lobbying activities feature an endless list involving many government committees and departments.
When he was first appointed, Brian's goal was to reinforce the position of the PRA as the association for independent forecourt retailers – a goal which, over the years has seen him become the face of the industry, not just through his willingness to spend time travelling the country visiting retailers – either individually or at regular group PRA meetings – and fulfilling many speaking engagements, but also with his regular high-profile appearances on TV and radio.
And this past year, more than ever, Brian has been there for his members, who – faced with a bewildering flow of regulations and restrictions as the country tackled the Coronavirus pandemic – have sought the advice and guidance from the experienced team he has put together at the PRA.
From the start of the lockdowns, Brian and his team have been working around the clock keeping their membership informed of developments, with daily emails and stepping in with support where necessary.
However, Brian says one of the proudest moments of his time at the PRA involves the Car Wash Association: "The re-establishment of the Car Wash Association has diversified the petrol retailers a little bit and certainly caters for what I personally see as a growth opportunity for the future.
"Whether it's an electric car, a hydrogen car or still an ICE vehicle, they will all need cleaning. And as time becomes more precious then the valeting services that top-quality car washes can provide will offer another leg of income to all of our retailers going forward."
He says the highlights of his time at the PRA (and he's not done yet) have been the two 'Ps' – people and places: "I've travelled the length and breadth of the four home countries – which I hadn't done previously, particularly Northern Ireland and Scotland. I've met some amazing people – entrepreneurs running their own family businesses. Whether it's one site or 400 sites there are some amazing talents and some really dedicated people out there who it's been a great pleasure to become friends with."
QUICK INFO
MD: Brian Madderson was managing director of Kent-based Top 50 Indie George Hammond plc for 20 years
PRA: Brian joined the PRA as chairman in 2009. His goal was to reinforce the position of the association for independent forecourt retailers
Proudest moment: The re-establishment of the Car Wash Association which supports retailers in what Brian personally sees as a "growth opportunity for the future"
Highlights: The two 'Ps' – people and places