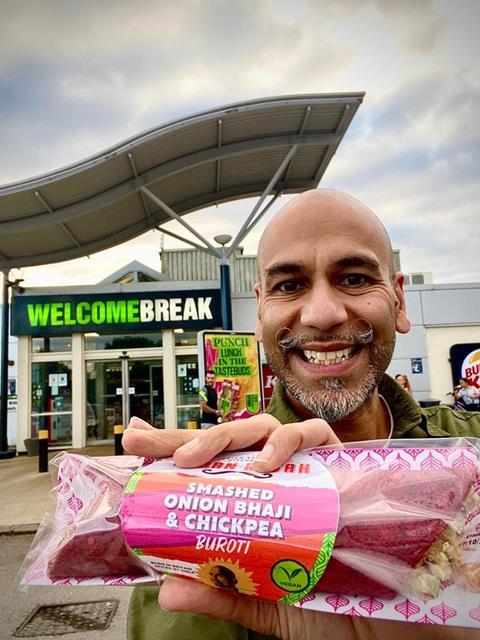 Ginsters brand owner Samworth Brothers and TV chef Ivor Peters have teamed up to bring Indian food to its chilled and ambient categories.
The new range is now in forecourts and features 'burotis' – Indian flat bread wraps with fragrant fillings.
The new Samworth Brothers products will be sold under Peters' commercial trading brand, 'The Urban Rajah' and will come in two varieties: 'Hari Hari Chicken' and the vegan 'Smashed Onion Bhaji & Chickpea.' The RRP is £3.50, and along with the burotis, are now on sale across all Welcome Break and Motor Fuel Group outlets. Further outlets will be added over the coming months.
Nick Anderson is the commerical director of Samworth Brothers: "We are delighted to be working with Ivor Peters and his Urban Rajah brand and are excited to be expanding our categories to fill a gap we have seen in authentically spiced product ranges, especially in the food-to-go category. The Urban Rajah products will also continue our expansion of high quality and tasty vegan and vegetarian choices for consumers seeking a little more flavour from their grab and go experience. These are products that will really stand out on shelves."
Ivor Peters said: "Being able to bring my food passions to a wide audience through the scale and reach of Samworth Brothers is very exciting and I cannot wait for consumers to be able to see and taste the results themselves."