Gulf dealers Stephen and Karen Smith of Evans & Jones have unlocked the benefits of a multi-site operation with the acquisition – and subsequent refurbishment – of Gwalia Garage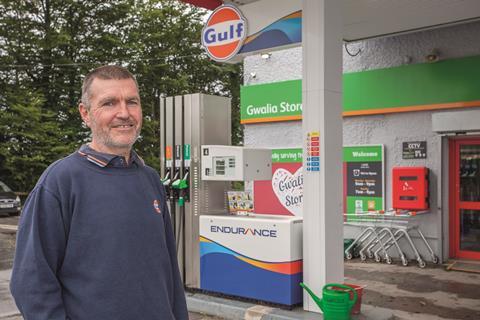 Gwalia Garage, situated on the A485 near Carmarthen, Wales, has recently undergone a major refurbishment of both forecourt and shop as new owners Stephen and Karen Smith of Evans & Jones Ltd prepare the site to meet the future needs of the local community.
With a proven business, established three miles away at Tanerdy Garage, the addition of Gwalia, now resplendent in Gulf's new forecourt livery, unlocks the benefits of a multi-site operation and creates exciting new opportunities for the owners and staff.
Tanerdy Garage is a rural success story, pumping over 4mlpa and with shop takings of £35k a week. At the heart of its local community, its convenience store includes an on-site kitchen that generates hot food to go, own-brand ready meals and bakery sales totalling over £200,000 annually. "Adding a second site has been a very positive step for us, our staff and the local community," enthuses Stephen.
"In just a few months we started to see the benefits of investing over £150k on a refurbishment which includes new pumps and back-office system and the removal of a house to create additional customer parking. A 1,000sq ft shop has now been transformed into a 2,500sq ft mini mart equipped to meet the daily and weekly shopping needs of both local people and the tourist trade. Gwalia shop sales have already grown from £600 to almost £3,000 per day and fuel volumes are up 15% and on target for 2.3mlpa."
The site, which sits on a large plot which offers opportunities for further development if required, was acquired in November 2018 with fuel supplies tied to Murco until June 2019. At the end of the contract period, the Gulf brand was introduced. Under the Gulf brand and now with the introduction of Endurance premium grade fuels and the introduction of Gulf's Oomph forecourt loyalty platform, fuel sales of 3m litres are considered achievable within the next 12 months. "We have a strong relationship with Gulf and both sites now fly the new livery," continues Stephen.
"We value Gulf both as a fuel supplier and expert business partner."
Community features prominently in the business operation and Stephen and Karen are both active in their efforts to protect the local economy by sourcing locally, creating employment and supporting local initiatives. As a former district nurse, Karen knew only too well the vulnerability and loneliness facing many people during the Covid-19 pandemic and was instrumental in arranging a home delivery service, taking phone orders, putting together boxes of provisions and then delivering to the front door. "We have many customers who are old and living in rural areas, often without any outside help," says Karen.
"It is the least we could do at a time when they are anxious and frightened. We are able to reassure them that they are not alone and although some now feel able to go out and shop, we are still delivering on a daily basis."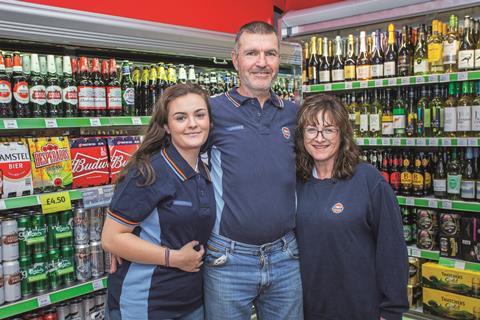 The purchase of Gwalia Garage has also been welcomed by the local community, delighted that the future of the garage and its Post Office are safe.
"Protecting the long-term future of the on-site sub post office is a great relief to the many people who rely on the services provided," continues Stephen. "Since taking over the post office we've realised just how important a post office is to its community, especially now so many rural banks have closed or are under threat. We've undertaken a rigorous training programme to qualify as sub- postmasters. Tanerdy also has its own sub-post office.
"Running two sites is hard work but with both sites in close proximity we are able to interchange staff which makes things a lot easier.
"The benefits of moving from a £1.7m to a £2.5m retail business are significant. There are substantial savings to be had on the purchase of almost everything. For example, we can now buy pallets of beer at very competitive prices without the worries that stock will be sat on the shelves for long periods. It is making a huge difference to our bottom line."
Alongside the economies of size and scale, Stephen gains particular satisfaction from the positive impact it is making on his staff of 24.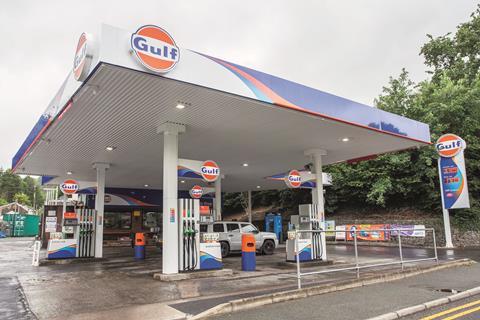 "We have a fantastic team, all loyal, hardworking and committed to the business. Two sites adds a new dynamic for everyone and increases the opportunities for career development within Evans & Jones Ltd. Our staff range from the ages of 16 to 81 and include my daughter Anna who joined us from 6th form college. Many of our team have worked with us for a decade or more.
"We are very passionate about our work and we also enjoy a laugh. There is never a dull moment working in petrol and convenience retailing. It is a challenging role that demands strong customer service skills alongside an understanding of food hygiene laws, health and safety, the responsibility of taking in deliveries and sales techniques.
"You also have to be a real team player who can bring out the best in others, even at peak times when the demands and pressure are turned up a notch."