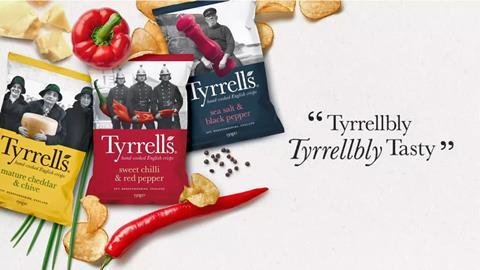 KP Snacks is continuing to support its premium brand Tyrrells with a media investment of over £1.5m. Running until the end of the year, the 'Tyrrellbly Tyrrellbly Tasty' campaign will feature across a wide range of channels, including radio, TV and social media – plus a TikTok presence for the first time.
Two radio ads are currently running across stations including Capital, Heart, LBC and Magic, as well as on Spotify. In November, Tyrrells will return to TV with its classic style Pathé footage ad. The campaign focuses on the fact that Tyrrells are made with only the finest ingredients and.
Meanwhile, on TikTok Tyrrells is partnering with Poppy O'Toole, young Master Chef judge, self-titled Potato Queen and influencer with 4.1m followers with a focus on Tyrrells Sweet Chilli & Red Pepper flavour.
Dan Winslet, global Tyrrells marketing controller said: "Our new investment is designed to continue to drive awareness and penetration for the Tyrrells brand. Tyrrells is a hugely popular brand delivering a quality product that consumers are turning to for a tasty, affordable treat which makes sharing occasions feel more special. We are always looking to reach new audiences and make sure the brand remains front of mind for shoppers and this campaign does just that".