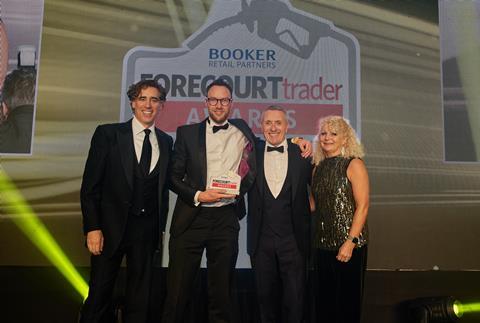 Winner of the Forecourt Trader of the Year Award two years ago, Rob Exelby, managing director of Exelby Services, came out top following an online vote, giving him this year's Special Recognition Award.
Despite living and breathing service stations since he was a teenager, Rob is still as enthusiastic about the industry as ever, and always has his eye out for the next 'big thing'.
He began working for the family company when he was 14, when his dad Mike ran the business. He started in the head office, behind the scenes doing paperwork then, when he finished university, he worked on the tills at one of their sites on the busy A19.
Rob was then given the choice: join the family firm full time or go and get some experience elsewhere first. He chose the latter - graduating as a mechanical engineer, he then worked at an engineering firm for three years before returning to Exelby Services.
Over the years, the company has gone big on redevelopment, ensuring sites are kept up to date and fit for purpose for ever-demanding motorists. The culmination of this was in 2021 when Exelby's redeveloped A19 North Services walked away with the Forecourt Trader of the Year Award. From the eye-catching Corten steel exterior to the replica F1 car mounted on the ceiling in the store, this site really stands out and deservedly won the industry's top accolade.
Sustainability and environment issues are important to the company – and to Rob – too, with sites doing their bit to offset carbon emissions. The company has completed an extensive sustainability project to incorporate a massive 190-Kilowatt solar farm and battery storage system, which will see the site cut its energy usage in half over the course of 2023 as Exelby Services aims to become a carbon neutral operation by 2030 across its five sites.
Exelby Services is also partnering with hydrogen refuelling specialist Element 2 to develop two hydrogen refuelling stations. It's that pioneering spirit that keeps him at the top of the game!