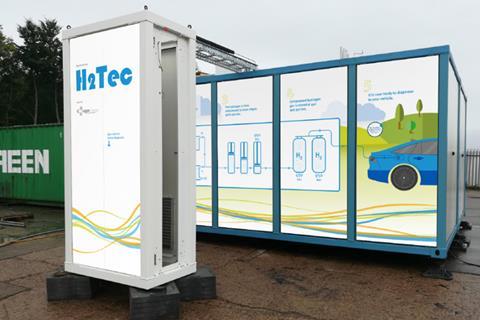 Edinburgh-based Logan Energy has delivered the first hydrogen refuelling station in Europe to adopt an industry-leading fuelling method.
The renewable hydrogen refuelling station will be Europe's first to use the MC Filling method, currently under consideration as the future standard hydrogen fuelling protocol.
This analytical method delivers a more "flexible and complete" fill by calculating the appropriate fuelling speed and ending pressure of a variety of vehicles, depending on the available hydrogen pre-cooling capacity. This results in a more cost-effective method of refuelling all types of hydrogen fuel cell vehicles.
Located at the IZES research facility in Saarbrücken, Germany, the solar-powered project is the first of its kind for Logan Energy in mainland Europe and will deliver 700bar (H70) hydrogen fuel for passenger vehicles.
Vehicles with 700bar hydrogen storage have an equivalent driving range and refuelling time to fossil fuel cars, capable of travelling up to 400 miles on a single, three-minute fill.
Bill Ireland, CEO of Logan Energy, said: "Designing and supplying hydrogen refuelling stations that adopt the MC Filling method presents a fantastic opportunity to lay down a blueprint for alternatives to automotive infrastructures driven by fossil fuels. A universally agreed and recognised fuelling method will be essential to hydrogen-powered vehicles becoming part of our everyday lives.
"This project with IZES is a real indication of the commercial maturity we're beginning to see in hydrogen technologies and will provide a roadmap for communities across the world to transition to renewable, hydrogen-based energy solutions.
"Our goal at Logan Energy is to lead the global road to decarbonisation and we believe that hydrogen is ideally placed to be a significant and, importantly, commercially viable energy solution for the future."
Bodo Groß, head of department technical innovations at IZES, said: "The success of this research project has the potential to play a catalytic role in the adoption of hydrogen vehicles by making the fuelling process a simpler and more flexible experience. Empowering drivers to use hydrogen-based solutions will underpin our effort to decarbonise the transport sector, ultimately helping to meet net-zero objectives both in Germany and abroad."