Winner of the Special Recognition category - by popular vote - at the Forecourt Trader Awards, Yogan attributes his success to hard work and a positive attitude, as well as the support of his family and staff.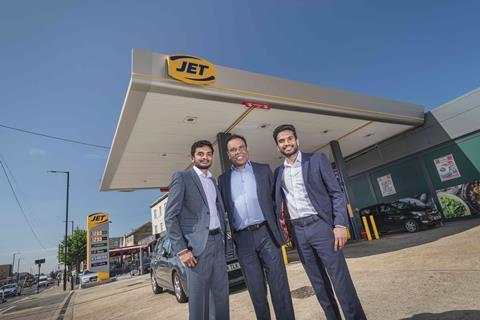 Visvanathan Yoganathan – known as Yogan – was very proud to be presented with the Special Recognition Award at the recent Forecourt Trader Awards, following a public vote.
"I was over the moon," he said. "I certainly didn't expect it. I was so pleased and strongly believe that it wouldn't have been possible without the support of my wife Jeya, my family and staff."
Yogan is managing director of Middlesex-based JP&S Services, which currently has 11 forecourts (plus one standalone 3,000 sq ft Budgens store) and was ranked at number 22 in the last Top 50 Indies report.
Yogan has worked long and hard to develop and grow his business, learning the trade from the ground up as he went along, establishing the successful and fundamental principles by which the company now operates – great customer service, clean and tidy forecourt and shop, good stock availability and competitive fuel prices. And as someone who believes in giving to those in need, he is also known for his charitable donations.
Yogan arrived in the UK from Sri Lanka in the 1980s and started working night shifts at a bakery in London until an opportunity arose to move into the world of petrol stations – firstly as a forecourt cleaner – before becoming a sales assistant and then moving up over the years to manager and then area manager. By the year 2000, he had acquired his first freehold forecourt – in Andover – and with luck and hard work over the years he has developed a strong network.
Seven of his sites are branded Texaco, four are Jet, including Hertford Road Service Station, a former BP site, which he acquired at the start of the year. It was recently re-opened as a Jet-branded site following an extensive refurbishment, having been closed for a couple of months during which time the height of the canopy had been raised by a metre, and the buildings re-modelled to provide 2,000sq ft of retail space. It's the latest of several 'knockdown rebuilds' and refurbishments he has undertaken in recent years, which have been a huge learning curve: "In business, you are learning every day," he says.
However, following the challenges of the pandemic, and with a watchful eye on future environmental requirements, he has put his next expansion plans – for sites at Andover, Godalming and Chingford – on hold for a couple of years. "I think forecourts are a fantastic business going forward, but we don't know what the next step is regarding the development of the car and so on. I am thinking about electric vehicles, but I'm not sure how quickly they are going to progress. We are preparing to install EV chargers on some sites in two to three years' time, but for now we are taking stock of the situation."
With all his forecourts being locally based, the store is the heart of Yogan's business – two of his forecourts feature Budgens stores and nine are branded Londis. These have served the business well during the pandemic, during which time he is pleased to report that the business has not lost any profits. "Although fuel volumes are down, shop sales are up," he confirms. "We attracted a lot of new customers – it was a good opportunity to talk to people."
Business is never smooth sailing and despite the challenges that have come and gone throughout the years, Yogan has remained positive and fully devoted to his family and business. He is reassured about the future of JP&S Services because in the past 18 months, his sons – Priyanth and Sukanth – have joined the family business after spending a number of years working in accounting and finance in London.
He is passing all his wisdom on to them: "It's a difficult business but you have to stay strong and not get fed up," he says. "It's important not to panic but make firm decisions; and make sure you move forward, because things are always changing."
Timeline
1980s: Arrived in the UK, doing night shifts at a bakery, before taking a job as a forecourt cleaner – and so his career in the forecourt sector began and he never looked back
1990s: Moving up through the ranks of sales assistant, manager and then area manager, by 1999 he had acquired his first freehold forecourt
2000s: With the support of his wife Jeya, family and staff, he worked hard and grew his network to 11 sites, plus one standalone Budgens store
2021: He was presented with the Special Recognition Award. He was one of six nominations put to a public vote on the Forecourt Trader website