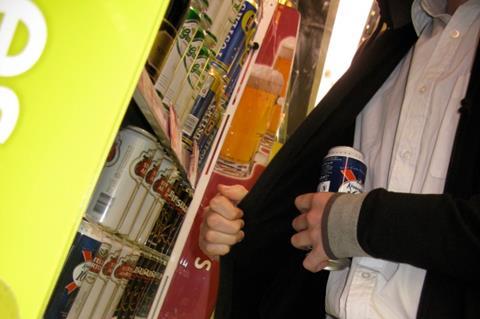 The Association of Convenience Stores (ACS) has called on police forces to introduce a 'Most Wanted' list of prolific shop thieves as part of new plans to tackle repeat offending.
The call comes as figures from the ACS annual Crime Report, published today (22nd June), show that its theft index has reached new record levels. The record was previously broken last quarter after standing for more than 10 years.
The ACS Crime Report estimates that there were more than 1.1 million incidents of theft reported last year. The most commonly stolen items reported by retailers are meat, alcohol and confectionery – typically high value items that can then be sold on by those with a drug or alcohol addiction, or part of wider organised crime groups.
ACS chief executive James Lowman said: "The levels of theft that retailers are experiencing on a daily basis are unprecedented. Repeat offenders, known to the community and known to the police, are stealing without fear of reproach. The cost of living crisis has increased the level of theft but this isn't driven by people falling on hard times turning to crime, it's organised criminal gangs and addicts stealing to fund their drug or alcohol problems. This cannot be allowed to continue.
"Official crime figures barely scratch the surface of the problems that retailers are facing. The government, police and crime commissioners, and local forces need to take urgent action to stop this national crimewave in its tracks and send a clear message that repeat offenders will be dealt with properly."
Tenby retailer Fiona Malone said: "Many of the people stealing from my shop are known to the community and the police. We need to do a better job at tackling these offenders and bringing them to justice. Unfortunately, shop thieves know that the police rarely take notice of anything stolen under £50 in value."
ACS has called on police forces and the government to do more to take retail crime seriously and support local businesses. The five-point plan includes:
1. Introduce a 'Most Wanted' list of shop thieves in each police force area, where prolific offenders can be banned from retail areas or referred to rehabilitation programmes.
2. Review the impact of new legislation that makes attacking a public facing worker (including shop staff) an aggravated offence.
3. Invest in rehabilitation programmes for offenders to break the cycle of offending and ineffective punishment.
4. Encourage local forces to use the tools available to them to deal with anti-social behaviour, such as the Community Trigger and Community Remedy powers.
5. Incentivise investment in crime prevention measures.
Additional key findings from the Crime Report include:
63% of shop theft is committed by repeat offenders;
79% of retailers believe that the cost-of-living crisis has led to an increase in theft;
87% of colleagues working in convenience stores have experienced verbal abuse over the last year;
Retailers estimate that just 16% of crimes against their business are reported to the police;
£228m was invested by convenience retailers in crime prevention measures over the last year.
ACS is launching the Crime Report in Parliament today, highlighting the impact of theft, abuse and violent crime on convenience retailers in every constituency across the UK.