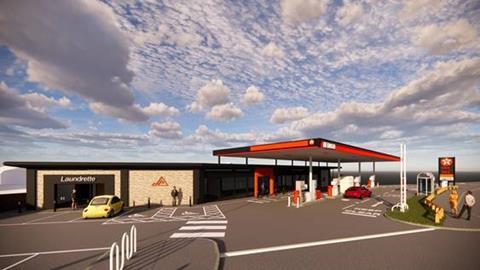 Top 50 Indie Ascona Group has extended its partnership with Valero Energy to supply fuel at an additional ten sites this year, seven of which will start to be supplied this February.
Valero and Ascona began their relationship in May 2018 when Ascona acquired Parker Drive Service Station, an existing Texaco-branded site. Since then their relationship has developed with this latest increase bringing the total number of Texaco-branded Ascona sites to 23.
Darren Briggs, managing director at Ascona Group, said: "Since we started our journey to expand our operations, Ascona has relied on strong, flexible and collaborative relationships with our suppliers. Valero is a best-in-class producer and its expertise and assistance has been vital for us as we moved from a single forecourt in 2011 to 50 across the UK today. We look forward to building on this partnership as we continue on our growth story."
Simon Fawkes, national accounts manager for Valero, said: "It's amazing what Darren and his team have achieved in such a short period of time, acquiring a total of 50 sites and showing no signs of slowing down anytime soon. We're delighted that 23 of these sites will be supplied by Valero under the Texaco brand, and with the offer of a competitive fuel supply package we hope to add to these numbers in the future."
He said close alliance and collaborative teamwork has enabled the two companies to make things happen quickly and within tight timeframes, despite the challenges presented by the pandemic.
Fawkes explained: "What's been most important is the great working relationship we have developed with Darren and his team. I hold our relationship with Ascona in high regard and have come to know Darren and his team for their determination and dynamism in business, while still maintaining a down-to-earth and fun company culture. A combination that has undoubtedly led to their success."
One of the new Texaco-branded sites, opening later this year, is Bush Hill Service Station, soon to be renamed Green Garage Service Station, in Pembrokeshire. This new 5,000sq ft Ascona development will be the company's flagship site and will feature Ascona's trademark deluxe jet wash, Instawash laundrette and the Ascona fish bar, as well as 3,500 sq ft Nisa-branded convenience store.
Andrew Cox, Valero's director, sales and marketing, said: "Darren and his team are fantastic retailers to work with; forward thinking, innovative and always aiming to exceed their customer expectations. We are proud to supply 23 of the Ascona sites and to support them with their continued growth."