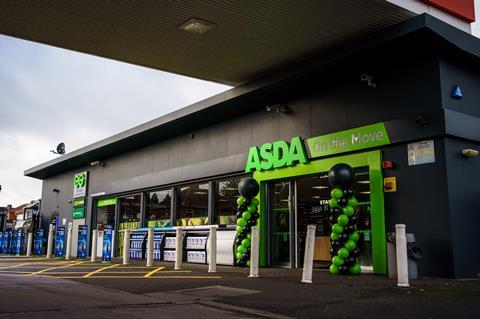 Asda has confirmed speculation that it would be rolling out convenience stores across the EG Group estate.
The move had been expected since the takeover of the supermarket group by EG Group founders and joint CEOs Mohsin and Zuber Issa, and investment funds managed by TDR Capital.
It revealed that it planned to launch 28 new Asda On the Move stores this year, up to 200 sites next year, and it aimed to roll out further stores in 2023.
The launch follows the trial of five Asda On the Move stores, which opened on EG Group forecourt sites last October.
The Asda On the Move rollout will begin next month, with sites opening in Knowsley, Crewe, Skelmersdale and Holtspur. Asda will supply the products on a wholesale agreement to EG Group, which will own and operate each site.
Each site will be up to 3,000sq ft in size and stock up to 2,500 products, including a selection of Asda's premium Extra Special range and a more extensive range of fresh produce and chilled lines than is traditionally found on fuel forecourts. They will also include foodservice offerings from EG Group and its partner brands such as Greggs and Subway.
The stores will open across EG Group's existing forecourt estate in the UK and are also expected to be situated on some new-to-industry sites as well.
Mohsin Issa CBE and Zuber Issa CBE said: "Our plans to roll out Asda On the Move will bring Asda to new customers, enabling them to pick up food-to-go, essentials for an evening meal, or treat themselves to premium Extra Special products from a range of convenient locations. We continue to see significant opportunities to drive innovation across the business and we look forward to working with the Asda team to execute our growth strategy."
John Fallon, Asda's chief finance officer, said: "The first phase of the rollout of Asda On the Move is an exciting next step for the business, enabling us to supply a new convenience store offer, complementing our other store formats."