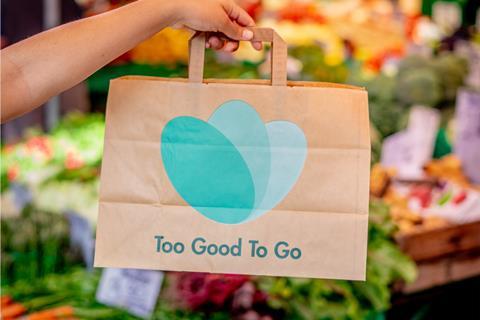 BP has completed a nationwide rollout with food waste app, Too Good To Go, following a successful trial.
The app was initially trialled in Scotland and Essex in August 2020, and has now been rolled out to all 292 company-owned and operated BP M&S Food Stores across the UK.
Since August 2020, the partnership claims to have saved over 138,000 Magic Bags of food from going to waste. The BP Magic Bags contain a mix of short-dated fresh groceries, food-to-go items, deli items and ambient produce from M&S Food, Wild Bean Cafe and other instore ranges. Alongside this, the partnership says it has also seen success in launching a series of seasonal Magic Bags, aimed at ensuring Halloween, Christmas, Valentine's and Easter themed produce has not gone to waste.
The Too Good To Go app lets consumers buy surplus food and drink from retailers, restaurants, pubs and producers to stop it from going to waste. Consumers simply download the free Too Good To Go app and search for nearby businesses with unsold produce. They then purchase a 'Magic Bag', collect it at an allotted time and enjoy it.
Paschalis Loucaides, UK managing director at Too Good To Go, said: "I'm thrilled to announce the nationwide rollout of our partnership with BP. So far we've seen incredible appetite from our users for our Magic Bags, with the seasonal-themed Magic Bags in particular, being very popular. Food waste is a huge global problem so it is great to see brands like BP stepping up to join us in ensuring perfectly good food is eaten and enjoyed instead of wasted."