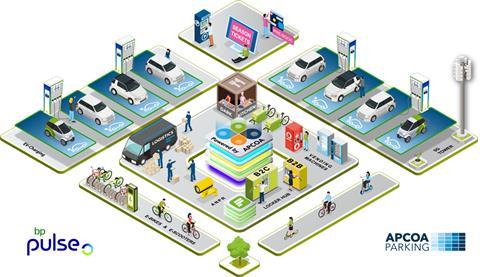 BP Pulse APCOA Parking Group have signed a strategic pan-European frame agreement to open more than 100 EV fast charging-hubs across Europe.
Under the agreement, BP pulse plans to install ultra-fast charging at APCOA car parks – Urban Hubs – in the UK, Germany, Austria, Belgium, Luxembourg, The Netherlands and Poland over the next three years to expand its charging network in city centres.
The project is part of APCOA's plans to transform its car parks into Urban Hubs which will provide physical and digital infrastructure for mobility, logistics, e-charging and technology-based services.
The two companies aim to work together to provide a convenient customer journey through digital integration of the BP Pulse and 'APCOA Connect' app in the UK and 'APCOA Flow' app in Europe. Registered users will be able to locate, access, book and pay for their charging and parking at the car park from their mobile, and the car park's entry and exit barriers will open automatically as the vehicle approaches.
Two Urban Hubs in Berlin and Bremen in Germany are expected to open in the third quarter of 2023. These will be the first locations to offer ultra-fast charging which can charge a minimum of six cars, 24 hours a day, 7 days a week and will be operated by Aral Pulse, BP's German brand.
To make the most of downtime while charging, some of the hubs will also offer a 'driver lounge' including a vending offer of hot and cold drinks, seating areas with phone charging points, free Wi-Fi and toilets will be available.
Stefan von Dobschuetz, general manager Europe, BP Pulse said: "This agreement will help us to build our EV charging network across Europe by offering customers the fastest and most convenient EV hub charging experience. By working with APCOA, we're bringing the future of parking, charging and services for urban life in one place."
Philippe Op de Beeck, CEO, APCOA said: "Working with BP Pulse is another step to achieve our plan to deploy 1,000 fast-charging stations through commercial partners in APCOA's car parks. Doing so, we are providing customers added services in our locations and make a relevant contribution to the transformation of individual mobility."