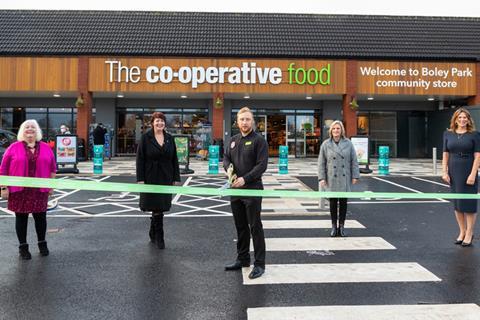 Central England Co-op has officially opened its flagship store in Lichfield following a £3m investment.
Last month, as part of the major project, a new petrol station was opened on the site as well as a redesigned car park including wider spaces, better traffic flow and improved lighting and walkways, new trees and planters, a new car wash, electric charging points for cars and a bike repair station.
The new store includes a special zero waste refill station that will allow shoppers to only buy what they need and cut down on food packaging and waste, a hot soup station for people needing to eat on the go and a free hot and cold water refill station.
Other innovations include eco-friendly fridges that reduce carbon footprint by 60% and emission-free home delivery via the Snappy App, hundreds of new products such as more local suppliers than ever, self-scan checkouts, customer toilets and seating inside and outside of the store.
It will also include a range of safety features in the light of the Coronavirus pandemic such as plastic screens, a one-way system and social distancing measures.
Boley Park store manager Jamie Joyce said: "We are delighted to have been able to finally open the doors to our flagship Boley Park store and welcome members and customers to showcase all the new and exciting features for the very first time.
"This project is the biggest single investment on a retail site in Central England Co-op's history and you only have to look around it to see that it is different from anything we have ever done before."
The £3m project also includes a large unit that will house a gym and two further retail units.