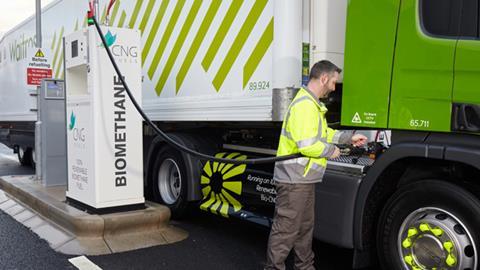 Foresight Group is providing an initial £80m in funding to CNG Fuels in a partnership to build a nationwide network of refuelling stations that will allow HGVs to run on carbon neutral fuel.

CNG Fuels opened its fifth refuelling station near Birmingham last week, and the funding will see it develop at least 14 further public access stations on major routes over the next two years.
This will make its Bio-CNG (compressed natural gas) available from Glasgow to Bristol, quadrupling the company's capacity and enabling it to refuel 8,000 vehicles a day.
CNG Fuels says its fuel is 35%-40% cheaper than diesel and cuts vehicle greenhouse gas emissions by up to 85%. It will gradually become fully carbon neutral from 2021 as the biomethane is increasingly sourced from manure, a heavy emitter of greenhouse gas.
Richard Morse, Chairman of JLEN, Foresight Group's listed environmental infrastructure fund, said: "We are pleased to make this investment into biomethane refuelling infrastructure, helping to decarbonise one of the most emission-intensive parts of the transport sector. We consider that the two pillars of better environmental performance and lower cost operations for customers combine to support our investment case and we look forward to supporting the growth of a national biomethane refuelling network."
Matt Hammond, Partner at Foresight Group, said: "Foresight is delighted to be supporting and working with CNG Fuels. It is very pleasing to see attractive investment opportunities right across the sustainable infrastructure sector and that our investments have real impact in the decarbonisation of the transport sector.
Baden Gowrie-Smith, Chief Financial Officer of CNG Fuels, said: "We expect the number of CNG trucks on UK roads to double in 2021 as fleet operators take action to support the government's Net Zero targets. This exciting partnership with Foresight demonstrates their enthusiasm for biomethane as a solution to decarbonise heavy transport at scale, and the near-term development of more stations will enable us to serve our customers even better by delivering carbon neutral Bio-CNG nationwide. We hope this will give even more brands the confidence to switch from diesel."
CNG Fuels is already able to supply 2,000 vehicles a day from its five public access refuelling stations, and a sixth station at Knowsley, near Liverpool, is due to open in January. Its newest station, close to the M6 at Erdington, east of Birmingham, can refuel up to 500 HGVs a day and will support a virtual pipeline, using gas trailers to supply the John Lewis Partnership's depot at Magna Park, near Milton Keynes.
Stations due to open next year include major trucking hotspots such as Eurocentral, near Glasgow, Milton Keynes, Avonmouth and Wakefield.