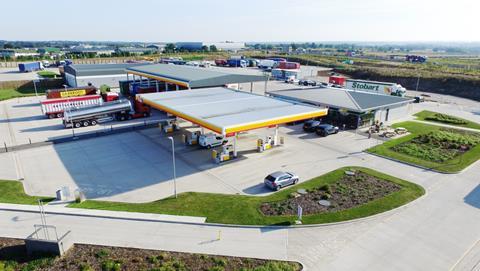 Forecourt Trader of the Year winner and Top 50 Indie Exelby Services is to partner with hydrogen refuelling specialist Element 2, to develop two hydrogen refuelling stations in the North of England.
The Coneygarth A1(M), Yorkshire and Golden Fleece (M6), Cumbria sites are making a claim to becoming the first public service stations in the UK to provide hydrogen refuelling services for hydrogen-powered HGVs.
Exelby Services managing director Rob Exelby, said: "Following the ever-increasing global focus on tackling climate change, now is the time to be proactive and embrace low- and zero-carbon alternatives to diesel drive-trains.
"We're proud to be partnering with Element 2 who have shown a great understanding in how existing fuelling networks operate, and with their expertise we can implement hydrogen refuelling on our existing service areas to offer a one-stop-shop for all road users as we transition to net-zero."
Tim Harper, chief executive officer, Element 2, commented: "This partnership is a pivotal moment in bringing hydrogen refuelling to the UK's roads. Together with our forward-looking partner Exelby Services, we will provide a turnkey solution for refuelling hydrogen HGVs on key haulage routes in the North of England. We're building the UK's network of hydrogen refuelling stations in response to growing demand from fleet owners and operators as they accelerate the transition of their HGV fleets to zero emissions, which will be critical in helping the UK meet its zero carbon targets."
Element 2 will deploy hydrogen refuelling infrastructure at the two service station sites – including provision for hydrogen tanker supply, storage, compression and dispensing – as well as providing Exelby with technical and logistical support during the planning and scoping phase, and during planning for appropriate civil layout schemes for the stations.
While the two permanent hydrogen refuelling stations are being developed, Element 2 will deploy its mobile hydrogen refueller to meet current client demand for low-carbon fuel at Exelby's Carlisle site.
Exelby Services plans to integrate hydrogen into its forecourt operations around the country.
Earlier this year at the Forecourt Trader Summit 2022, Rob Exelby said he was looking at future fuels and new systems with hydrogen refuelling, especially on the truck side, explaining that there was some very promising data from initial trials with hydrogen and combustion fuel cells. He also spoke about the huge investments on sites like the hydrogen plant at Teeside, which was only a "stone's throw from us up the road. So potentially there will be key infrastructure and we want to play a part in that."
Exelby Services was crowned Forecourt Trader of the Year in 2021 for its A19 Services North site. The company owns and operates five Shell service areas and truckstops in the North of England, covering the A1(M), A19, M6 and M62 major transport routes.