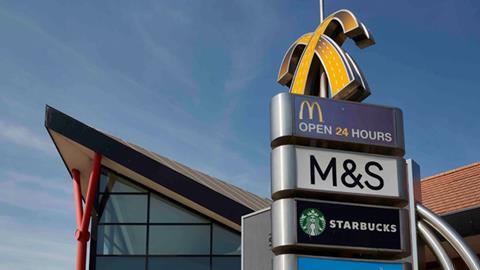 Extra and Westmorland have been rated England's best motorway service operators according to the latest survey by independent transport user watchdog Transport Focus.
In its fourth annual survey Transport Focus asked almost 10,000 customers about their experience at all 112 motorway services in England, between February and March before the coronavirus lockdown. Visitors had their say on facilities such as toilets, staffing, food and drink.
Extra, operator of six sites in the survey and Westmorland, which operates four sites, achieved the joint highest overall satisfaction score (97 per cent). Compared to last year's survey, Extra saw a significant increase in satisfaction of eight percentage points to 97%. Westmorland had the most 'very satisfied' visitors at 87 per cent.
Across the country as a whole, motorway service operators performed well with 93% of visitors satisfied with their experience (an improvement on last year's 90% and the highest score since the survey started).
Visitors were least satisfied with the value for money of the food or drink they bought to eat in the services at 69%. Those who drive for a living, which includes HGV drivers, were the least satisfied at 89%, however, this has increased from 83% in 2019.
Anthony Smith, chief executive of the independent watchdog Transport Focus, said:
"As the country emerges out of lockdown and people take to the roads for staycations this summer, motorway services will provide a vital opportunity for drivers to take a break on their journey.
"Motorway services provide customers with a great experience with friendly and helpful staff, but there is still room for improvement when it comes to the value for money of the food and drink on offer."
Drivers were also asked what impact their visit to the motorway services had on their mood on arrival and when leaving the services, with 27% of visitors saying they arrive feeling tired, frustrated or stressed. The visit to services significantly reduces visitors' negative mood to just 5%.
Euro Garages had the biggest year-on-year increase in satisfaction from 86% to 96%. All three of the larger operators saw an increase in satisfaction this year: Roadchef (up from 92% to 95%), Moto (up from 90% to 93% and Welcome Break (up from 90% to 92%).
Overall, the survey found:
89% of visitors were satisfied with the cleanliness of the toilets
69% of visitors thought the food or drink they bought to eat in the services represented value for money
the friendliness and helpfulness of staff was rated good by 94% of visitors buying food or drink to have in the services.
This year visitors were also asked how they thought the services they stopped at compared to others. Across the four Westmorland sites 94% of visitors felt they were 'better' in comparison to other services they had visited. Euro Garages (two sites) and Extra (six sites) both had more than half of visitors describing these services as 'better' in comparison to others they had previously visited.