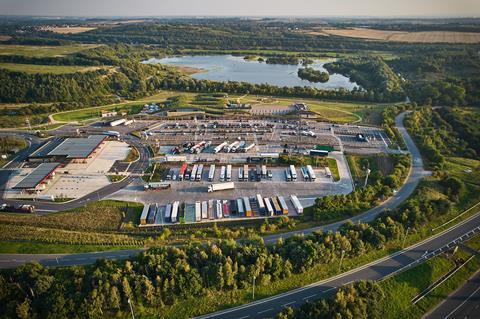 Motorway Service Area (MSA) developer and operator Extra MSA Group is sponsoring the cycling events at this year's Westfield Health British Transplant Games, which will take place from July 28–31 in Leeds and see the largest gathering of transplant recipients since 2019, following successive lockdowns and shielding.
Continuing to support the transplant community and raise awareness of the importance of organ donation, Extra's 2022 sponsorship comes after it hosted the inaugural British Transplant Games Cycling Sportive at Extra's newest state-of-the-art motorway service area, Leeds Skelton Lake Services (M1 Junction 45), last year.
This year's cycling events will take place at the Brownlee Centre, bringing together transplant patients, live donors, supporters and guests. Extra will have a presence onsite where participants will be given the opportunity to take part in an exciting Extra competition for a chance to win prizes, and information about the Games will also be shared at Leeds Skelton Lake Services, welcoming the transplant community as they travel to Leeds.
Andrew Long, CEO of Extra MSA Group, said: "We are exceptionally proud to be sponsoring the British Transplant Games, which is an initiative that has made a positive impact on many lives and helped to open-up the conversation about organ donation and the benefits of transplantation since its inception 43 years ago.
"Hosting the inaugural Cycling Sportive at Leeds Skelton Lake Services last year was an incredible honour and we're thrilled to be getting involved with the meaningful activity taking place locally again this year. We're committed to playing a positive and active role within the communities surrounding our motorway service areas and being involved in the British Transplant Games enables us to support an important cause while promoting physical activity and encouraging people to go the extra mile."
Dr Paul Harden, Chair of Trustees for Transplant Sport which is the charity behind the Games, said: "After two years of lockdowns and shielding, we finally don't have too long to wait until this summer's Games, and we are so proud to be hosting one of our biggest events yet.
"We can't wait to be reunited in Leeds. It will be fantastic to see old friends and a pleasure to welcome so many new faces. The generous support from Extra means that not only are we able to host the cycling events at the fantastic Brownlee centre, but also that we can spread the messages about the Games and the life-saving benefits of organ donation to as many people as possible, we're so grateful for the opportunity to do so."
Leeds Skelton Lake Services is the newest of eight Extra MSA Group Motorway Service Areas across the country. The company boasts about the site's environmental credentials with a living roof, RSPB visitor centre and a lakeside setting for visitors to enjoy, as well as offering a children's play area and high-powered IONITY electric vehicle charging points. The destination is also home to a broad selection of popular food, drink, retail and hospitality brands, including Nando's; Pizza Express; Burger King; KFC; Starbuck's; Leon; Tortilla; and Chopstix.