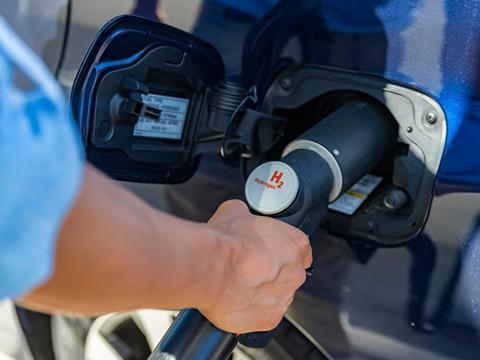 The government is investing in two projects to develop the use of hydrogen in the transport and energy sectors.
Plans for the UK's first hydrogen transport hub have taken a step forward with the unveiling of an official masterplan and an injection of £3m in government funding.
The transport hub – being built in Tees Valley – will bring together government, industry and academia to focus research, testing and trials across all transport modes, and could be fully operational by 2025.
Transport secretary Grant Shapps said: "By harnessing the power of hydrogen technology, we have the opportunity to bring long-term prosperity right across the country.
"The hub will establish the UK as a global leader in hydrogen technology, paving the way for its use across all transport modes and propelling us towards our net-zero goals."
Pop-up trials could see shops, supermarkets, online retailers, warehouse operators and delivery companies using hydrogen-powered transport to move goods and carry out last-mile deliveries.
It could also see local transport operators working with the transport research and development (R&D) sector to deliver emission-free hydrogen passenger services, such as on-demand regional buses or zero-emission refuse vehicles.
The Department for Transport's masterplan sets out a vision for the hub and a blueprint of the infrastructure required to deliver that vision. The facilities within the hub also include an R&D campus for the creation and sharing of knowledge.
Tees Valley mayor Ben Houchen said: "Our region already produces more than 50% of the UK's hydrogen, so it was a no-brainer for the government to set up the UK's first hydrogen transport hub in Teesside, so we can lead the way in developing the technology and fully unleash our area's potential as we build back greener."
Meanwhile Essar and its Stanlow refinery at Ellesmere Port in Cheshire is central to a consortium seeking to develop a low carbon industrial cluster in the North West.
A commitment of £72m of funding has been made to HyNet North West, a hydrogen and carbon capture and storage (CCS) project being developed by a consortium of regionally located partners comprising Progressive Energy, Cadent, CF Fertilisers, Eni UK, Essar, Hanson, INOVYN (part of the INEOS Group) and the University of Chester.
From 2025, HyNet North West will begin to convert natural gas into low carbon hydrogen at Stanlow Refinery, with carbon dioxide captured and stored offshore in the Liverpool Bay gas fields. A new pipeline network will transport the hydrogen to power industry, fuel buses, trains and heavy goods vehicles, to generate electricity, and to heat homes across north-west England and north Wales.
The £72m funding comprises £33m from UK Research and Innovation (UKRI) through the Industrial Decarbonisation Challenge (IDC) fund, and £39m of consortium partner contribution. The funding will allow HyNet North West to move towards to a final investment decision (FID) in 2023 for the initial phase, and become operational in 2025.
Business and energy secretary Kwasi Kwarteng said: "We were the first major economy to put into law our target to end our contribution to climate change, and today we're taking steps to be the first major economy to have its own low-carbon industrial sector.
"While reaching our climate targets will require extensive change across our economy, we must do so in a way that protects jobs, creates new industries and attracts inward investment – without pushing emissions and business abroad.
"Ahead of COP26, the UK is showing the world how we can cut emissions, create jobs and unleash private investment and economic growth. Today's strategy builds on this winning formula as we transition low carbon and renewable energy sources, while supporting the competitiveness of Britain's industrial base."