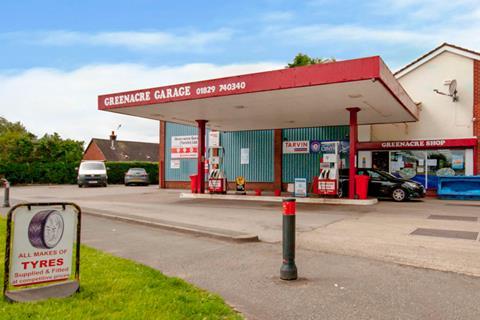 An independently owned forecourt site in Cheshire has been sold to a first-time buyer by specialist business property advisor Christie & Co.
Greenacre Garage is a freehold forecourt site, comprising an independently branded petrol filling station, convenience store and MOT garage.
The forecourt, which is currently fully managed by an experienced team of staff, is on a main road through Tarvin, an affluent area six miles outside of Chester, and has a steady stream of local and passing trade.
The business has been operated by David and Gillian Evans for the past 32 years and came to market when they decided to retire.
The purchaser, Sajeev Gowrinathan, is a first-time buyer who intends to grow the site's convenience offering and has plans for a renovation.
James Moore-Martin, director in Christie & Co's Retail team, handled the sale and commented: "It was a pleasure to act on behalf of David and Gillian who have built and successfully operated a fantastic business over the last 30 years. We received a multitude of offers and I'm delighted for the purchaser, Sajeev. I look forward to seeing the site following the renovation works planned. Many thanks also to Christie Finance who arranged funding despite extremely challenging market conditions."
David Evans said: "My wife and I have owned Greenacre Garage for 32 years, so it was a big decision for us to decide to sell up due to health problems and both of us reaching a certain age.
"Following this, the biggest decision was trying to decide who to use as a selling agent and we spoke to quite a number before meeting with James Moore-Martin from Christie & Co, as it's quite a minefield.
"We have nothing but praise for the way that James dealt with the lengthy sales process plus the Covid-19 situation. Despite all of the challenges, he successfully sold the business, and we would strongly recommend Christie & Co as trustworthy business agents."
Sajeev Gowrinathan commented: "We're so excited to be the new owners of Greenacre Garage. As first-time buyers, we had to overcome a lot of hurdles to obtain funding and it took a lot longer than expected due to Covid-19. The team at Christie & Co were so patient and professional from start to finish and we can't thank them enough for helping us to complete on the sale."
Alena Jawadwalla, senior finance consultant at Christie Finance, sourced funding for the first-time buyer and said: "I'm delighted to have been able to secure funding for Sajeev. It's a rarity that first-time operators acquire well-established forecourt assets but with help from a specialist commercial finance broker like Christie Finance, we are able to secure competitive finance packages to enable this to happen for clients. I wish Sajeev all the best and I look forward to hearing of the business's growth and success."