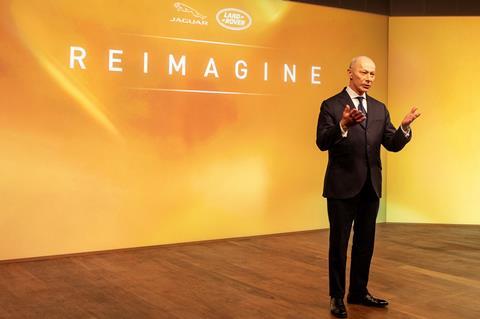 Jaguar is to undergo a transformation and emerge as a purely electric luxury brand from 2025, according to a new global strategy announced by Jaguar Land Rover as it starts the journey to become a net zero carbon business by 2039.
At the heart of its new global strategy - 'Reimagine' - will be the electrification of both Land Rover and Jaguar brands on separate architectures with two clear, unique personalities.
Clean-hydrogen fuel-cell power is also being developed in preparation for future demand.
Jaguar and Land Rover says it will offer pure electric power, nameplate by nameplate, by 2030. By this time, in addition to 100% of Jaguar sales, it is anticipated that around 60% of Land Rovers sold will be equipped with zero tailpipe powertrains.
In the next five years Land Rover plans to add six pure electric variants to its range of luxury SUVs through its three families of Range Rover, Discovery and Defender. The first all-electric variant will arrive in 2024.
By the middle of the decade, the company says Jaguar will have undergone a renaissance to emerge as a "pure electric luxury brand with a dramatically beautiful new portfolio of emotionally engaging designs and pioneering next-generation technologies".
Jaguar Land Rover's aim is to achieve net zero carbon emissions across its supply chain, products and operations by 2039.
As part of this ambition, the company is also preparing for the expected adoption of clean fuel-cell power in line with a maturing of the hydrogen economy. Development is already underway with prototypes arriving on UK roads within the next 12 months as part of the long-term investment programme.
Sustainability that delivers a new benchmark in environmental and societal impact for the luxury sector is fundamental to the success of Reimagine. A new centralised team will be empowered to build on and accelerate pioneering innovations in materiality, engineering, manufacturing, services and circular economy investments.
Annual commitments of circa £2.5bn will include investments in electrification technologies and the development of connected services to enhance the journey and experiences of customers, alongside data-centric technologies that will further improve their ownership ecosystem.
The company's chief executive officer Thierry Bolloré said: "Jaguar Land Rover is unique in the global automotive industry. Designers of peerless models, an unrivalled understanding of the future luxury needs of its customers, emotionally rich brand equity, a spirit of Britishness and unrivalled access to leading global players in technology and sustainability within the wider Tata Group.
"We are harnessing those ingredients today to reimagine the business, the two brands and the customer experience of tomorrow. The Reimagine strategy allows us to enhance and celebrate that uniqueness like never before. Together, we can design an even more sustainable and positive impact on the world around us."