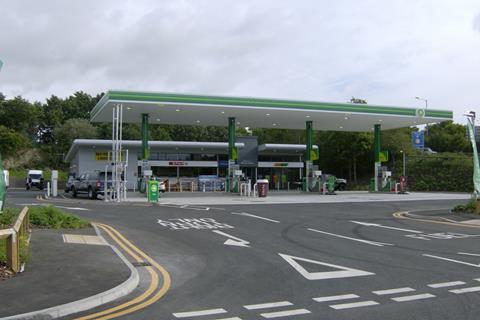 Top 50 Indie Kay Group has applied for planning permission for a new to industry (NTI) petrol filling station at a site in Stoke-on-Trent.
The application is made jointly by the landowner Network Space Developments Limited and The Kay Group (UK), which would develop and operate the facility. Network Space is a north-west based commercial property company, which develop and manages commercial property, with a specialisation in the industrial property market.
The proposed development site is located directly off the A50 and close to the junction between James Brindley Way and High Street at Sandyford, Tunstall, and consists of an undeveloped parcel of land surrounded by a mix of retail, commercial, industrial and some residential properties.
The development proposal is to create a new petrol filling station (PFS) and forecourt with jet wash and vacuum facilities. An earlier version of the application included a drive-thru restaurant, but this was dropped after consultation with the planning authority, Stoke-on-Trent City Council.
The proposed new PFS building has a gross floor area of 545sq m. and a retail floor area of 400sq m. There would be parking for 32 customer vehicles and 6 bicycles, 9 staff parking spaces and 14 parking spaces for the local church. Two of the parking bays will be able to take EV charging points, with infrastructure being put place as part of the build.
A design statement submitted with the application says the scheme would include provision of a free-to-use cash machine, adding there is a directive from the Kay Group to keep these free at the point use, when many facilities are chargeable and banks are withdrawing the cash machine services.
Kay Group was ranked 12th in the Top 50 Indies published in March, with 22 sites. It has opened 10 new sites in past five years and currently has three NTIs at the planning stage.