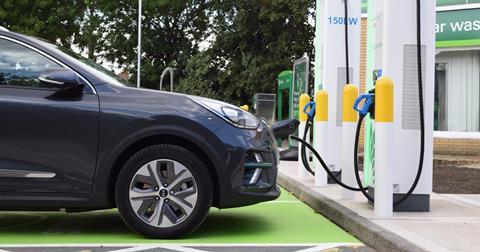 Kia Motors (UK) has appointed BP Chargemaster to provide charging points and public charging network access to its electric car customers, as well as Kia dealerships across the UK.
The two-year contract will see BP Chargemaster supply and install Smart Homecharge units at customers' homes, as well as commercial charging points at Kia dealer sites to support vehicle sales and servicing.
In addition, new electric car customers who have ordered their Smart Homecharge unit through Kia's dealer network can receive two years' free membership of the Polar public charging network.
BP Chargemaster's app-enabled Smart Homecharge units allow customers to charge at home, with the ability to schedule charging times to take advantage of dynamic energy tariffs and to fit charging around their own routines.
Intelligent commercial charge points from BP Chargemaster can be fully integrated within the same operating platform as the Polar network, meaning that Kia dealerships can use the same access method on the charging points in their sales and servicing areas as they do for their public charging.
Matteo de Renzi, CEO of BP Chargemaster said: "We are really pleased to be supporting Kia's electric car customers in the UK for their home and public charging needs, as well as enabling their dealers to charge vehicles conveniently at their sites.
"Drivers of Kia electric cars like the e-Niro will be able to rely on BP Chargemaster to get them charged at home and on the go, including on the UK's largest public network of ultra-fast chargers. More than 50 UFCs are already live at BP retail sites and we will see at least 200 more by the end of next year all over the country."
David Hilbert, marketing director at Kia Motors (UK), commented: "At Kia we want to ensure that our customers have the best charging solutions that suit them to ensure that they can make the best of their vehicles – whether they are fully electric or plug-in hybrid models. With BP Chargemaster and Polar having the biggest public charging network across the UK, the decision to partner with them was easy and one that our customers and our dealers will benefit from."