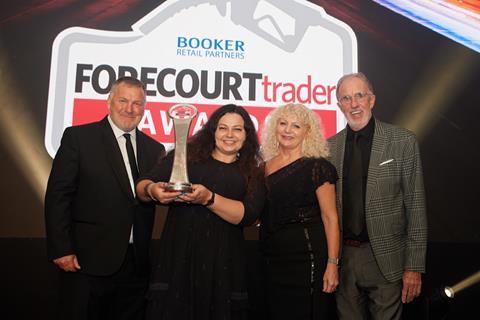 MFG Shell Putney was the outright winner at last night's glittering Forecourt Trader Awards ceremony, in which forecourt retailers nationwide were recognised for their entrepreneurial skills and talent in the face of significant and ongoing challenges.
Putney Service Station is MFG's state-of-the-art flagship EV charging station, petrol filling station, convenience retail and valeting centre which was re-opened in 2021 following a knock-down-rebuild, and features everything a customer could want from a comprehensive forecourt operation, especially one that is catering for future motorists.
Forecourt Trader editor and chairman of the judges Merril Boulton said: "MFG Putney is a key site for the company as it's been designed as the industry-leading blueprint for the future of UK forecourts to achieve a practical transition from fossil fuels to electrically powered vehicles. The spacious dual-fuel station has eight dedicated EV charging bays, and eight traditional fuel pumps; as well as an impressive valeting offer all decked out in very striking branding. The big Budgens retail store with a comprehensive range of food-to-go, drinks and grocery lines, as well as the Costa Café with M&S Food range, where customers can sit comfortably, adds up to a 'wow' site, serving the needs of all its motoring and local customers. The management team have also done a great job creating a positive environment with great standards and service. A very worthy Forecourt Trader Award-winning site for 2022!"
Meanwhile Darren Briggs, CEO of the Ascona Group, was voted the winner of the Special Recognition Award by the readers of Forecourt Trader.
The Forecourt Trader Awards ceremony is the most prestigious event in the fuel retailing industry and enjoyed a bumper turnout following the Covid years. Fellow retailers, oil companies and industry colleagues celebrated into the early hours.
Celebrity footballing pundits Ray Stubbs and Mark Lawrenson hosted the proceedings, giving a flavour of the build-up to the forthcoming World Cup. Entertainment for guests included Monster Cocktails, Casino and Scalextric.
See below for a full list of winners:
Best Motorway Service Outlet
Shell Cobham Motorway Services – Cobham, Surrey
Northern Ireland up to 4mlpa
Swifts Eurospar Lisnaskea – Lisnaskea, Fermanagh
Northern Ireland over 4mlpa
McCullagh's Classic Service Station – Omagh, Tyrone
Scotland up to 4mlpa
Racetrack Pitstop Bearsden – Bearsden, Glasgow
Scotland over 4mlpa
MFG Broxden Service Station – Perth, Perthshire
Northern England up to 4mlpa
G&E Murgatroyd Spar – Whitehaven, Cumbria
Northern England over 4mlpa
Jet Refinery Service Station – South Killingholme, North Lincolnshire
Midlands up to 4mlpa
Nisa Local Highland Group Potton – Sandy Bedfordshire
Midlands over 4mlpa
Park Thieves Lane – Shrewsbury Shropshire
London & South East up to 4mlpa
MFG Sutton Court – Sutton, Surrey
London & South East over 4mlpa
MFG Shell Putney – Putney, Wandsworth
West Country & Wales up to 4mlpa
Green Garage Bush Hill – Pembroke, Pembrokeshire
West Country & Wales over 4mlpa
MFG BP Budgens Dunball – Bridgewater, Somerset
Best Alternative Fuels
Gridserve Norwich Electric Forecourt – Postwick, Norwich
Best Car Care & Lubricants Outlet
Woodman Service Station – Dewsbury Road, Leeds
Best Coffee & Hot Beverages Outlet
Spar Fortfield – Carrickfergus, Antrim
Best Community Engagement
Lewis – Llandrinio, Powys
Best Customer Service
Eurospar Donegall Road – Belfast, Antrim
Best Design and Development
Eurospar Kircubbin – Kircubbin, Newtownards, County Down
Best Food-To-Go Outlet
Centra Mallusk – Newtonabbey, Antrim
Best Forecourt Innovation
Gridserve Braintree Electric Forecourt – Braintree, Essex
Best Forecourt Loo
RaceTrack Pitstop Autoport – West Bellahouston, Glasgow
Best Forecourt Team
Creightons of Finaghy – Belfast, Antrim
Best Site Manager
Chris Lawlor from Eurospar Donegall Road, Belfast
Best Soft Drinks Outlet
Woodman Service Station – Leeds, West Yorkshire
Best Valeting Facilities
Rontec Beverely – Beverley, East Yorkshire
Oil Company Initiative
Winner: Gulf – PricePro App and Dashboard
Highly commended: Maxol – Sustainability Programme
Special Recognition Award
Darren Briggs, CEO Ascona Group
Forecourt Trader of the Year