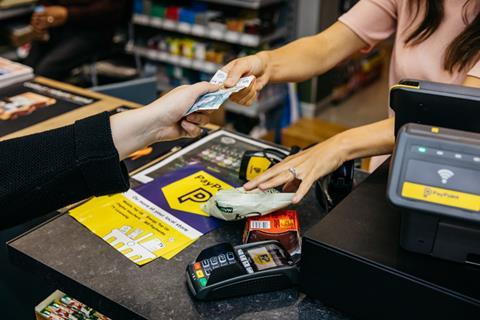 A trial to enable consumers to withdraw cash in smaller shops without paying a fee has been started by Link, the UK's main ATM cash machine network, and PayPoint, the in-store payment services provider.
The trial is being piloted in 13 shops across Burslem in Staffordshire, Hay-on-Wye in Powys, Cambuslang in South Lanarkshire and Denny in Falkirk.
Retailers are remunerated for providing the service by the cardholder's bank via PayPoint, and consumers using the service can withdraw precise amounts rather than be restricted to the £5, £10 and £20 notes dispensed by ATMs.
The launch follows a new consultation from HM Treasury on protecting access to cash. If the pilot is to be rolled out nationally it will require modification of existing legislation.
More than 1,500 cash withdrawals and 165 balance enquiries have been made with an average withdrawal of £26.80.
Adrian Roberts, chief commercial officer of Link, said: "The pilot has got off to a strong start and it's very encouraging to see so many consumers making use of and benefiting from this new service. As we use less cash, solutions such as this become more important as ways of providing free access to cash in all communities. Last week the Government began consulting on protecting cash access and we're very pleased to see cashback without purchase as one of the proposed solutions."
John Glen, economic secretary to the Treasury, commented: "It is vital that we find new ways to ensure consumers and businesses can easily access cash in their local area. The government is currently exploring how to make cashback without a purchase widely available from local retailers, and I am pleased to see good early demand in these industry trials. These pilots, and others in the Community Access to Cash Initiative, will provide important lessons as we develop new legislation to protect access to cash."
Nick Wiles, chief executive officer at PayPoint, added: "It's great to see this pilot receiving strong local engagement in some of the UK communities that have traditionally faced restrictions over free access to cash. As a long-standing champion of access to cash, PayPoint remains committed to working with its partners to ensure its network caters to those who rely on cash as part of their day-to-day lives."