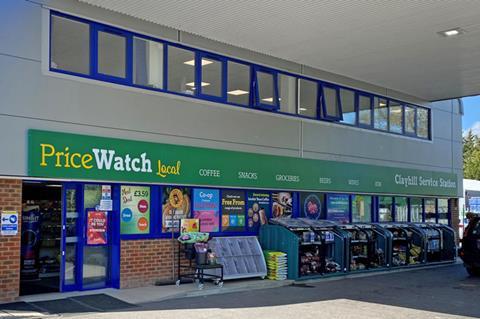 Twelve Power Petroleum branded forecourts are going to have new EPOS equipment installed under a contract agreed between the fuel company Pricewatch and Henderson Technology.
The deal will involve installation of the EDGEPoS platform at each of the 12 sites and EDGEPoS Head Office at Clayhill Service Station to allow full control of all 12 sites from this one central location.
The first two EDGEPoS sites are now live at Uckfield Service Station and Clayhill Service Station. Two sites will be installed every week for five consecutive weeks.
Announcing the agreement Darren Nickels, retail technology operations director at Henderson Technology, said: "We are delighted to have been selected by Pricewatch through a competitive tender process with C-Store Collective to roll out EDGEPoS across its 12 Power Petroleum branded forecourts.
"The team at Pricewatch were looking for a progressive, future-proof, fuel EPOS system that could integrate their fuel with their EPOS platform while at the same time coping with the demands of their busy forecourts. The integration will also allow them to develop their convenience stores onsite through joint partnerships.
"EDGEPoS meets all their needs and they will be the first retail stores to avail of the newly developed Nisa wholesaler link with EDGEPoS. The EDGEPoS Head Office system allows Pricewatch to have full control and visibility of ordering, stock control, wet stock management and much more from one central location for all 12 sites.
"We are delighted that Pricewatch has chosen EDGEPoS and we are looking forward to a long and successful partnership over the years to come."
Henderson Technology joined C-Store Collective as its exclusive EPOS partner in late 2020. A training suite at the HQ at Clayhill Service Stationwas set up and store managers have been working the till and back office. Initial feedback has been great, especially around the ease of operation of the till. "Our platform provides the opportunity for integration with other key C-Store Collective partners meeting the full needs of Pricewatch," said Nickels.
Pricewatch is a 12-site forecourt network based in Sussex. Operating under its own fuel brand, Power Petroleum, the business employs more than 100 people and is a combination of transient and neighbourhood stores situated across the county.
Paul Salvidge, director at Pricewatch, said: "We needed to upgrade our systems and when we were introduced to Henderson Technology by C-Store Collective, we knew we made the right decision. As well as the system being ideal for our needs, we have the comfort of knowing its origins are based in the forecourt market, built by retailers for use in their own network.
"The project team has ensured the smooth planning and transition as we run through our install programme across all 12 sites. We look forward to understanding the system's full capabilities and working with Henderson Technology for the duration of our agreement."