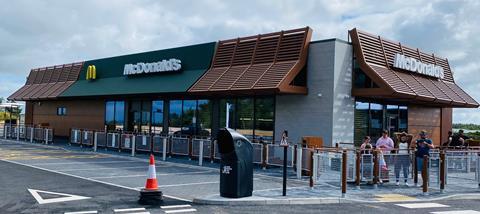 Revised plans for roadside services at junction 4 of the M90 motorway have been submitted to Fife Council.
A supporting statement on behalf of the joint applicants – site owner Ian Maclellan and TG Convenience Stores – said the new plans took into account feedback after a previous application in May last year, which was withdrawn in August.
The statement by agents Graham and Sibbald said the development comprised a petrol filling station (PFS), which would create the equivalent of 10 full-time jobs, and a McDonald's restaurant which would create the equivalent of 62 full-time jobs.
The proposed PFS would comprise an 8-pump forecourt covered by a canopy, two jet wash bays, service bays for water and air and vacuuming, customer parking, and a new retail shop unit. A separate HGV refuelling area with HGV parking would be located to the east of the retail unit, between the PFS and the freestanding restaurant/drive thru component of the site.
There also proposals for eight electric vehicle charge bays. They would be served by four 150kW Swarco EV chargers, with one unit serving two bays each.
The McDonald's restaurant would have 100 covers, 40 car parking spaces and eight cycle spaces, and a drive-thru facility.
The site would operate 24 hours a day all week.