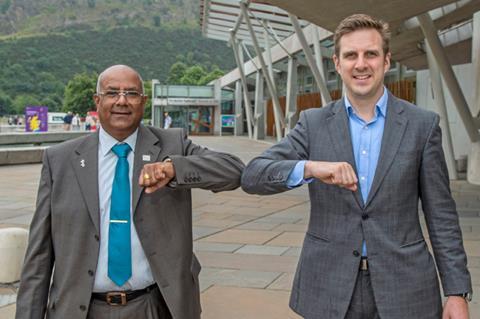 Retail trade associations have welcomed the introduction of a new law in Scotland making verbal or physical attacks on anyone working in a retail store a specific offence.
Hussan Lal, immediate past Scottish president of the Federation of Independent Retailers (NFRN), thanked Daniel Johnson, a Labour MSP and former retailer, who brought in a Private Members Bill to offer retailers more protection against crime.
He also paid tribute to other parties including Ash Denham, minister for community safety in the Scottish Government, who agreed to turn the bill into a law.
Hussan said: "We are grateful to Mr Johnson and other parties including Ash Denham, the minister for community safety, for making this new law come about. We now have something to charge culprits with."
Daniel Johnson said: "I'm delighted to see my Protection of Workers Act come into law. It represents a victory for retail, its staff and customers.
"Throughout this process I heard many horrific stories of abuse and spoke with many workers on the front line every day.
"This Bill will ensure retail workers have the same protections as those in every other sector and enables the police to properly act.
"I will continue the fight to ensure my Bill is properly enforced and would like to take the opportunity to thank the Federation of Independent retailers (NFRN) and all other stakeholders and retail staff for working with me from the very beginning of this process."
ACS chief executive James Lowman said: "The introduction of legislation in Scotland on the protection of retail workers sends a clear message to offenders that violent and abusive behaviour is unacceptable and will not be tolerated. Now we need the police, courts and businesses to take these offences seriously and to use these enhanced penalties effectively.
"We need Westminster to provide the same reassurance and protection for all UK retail workers who have been working tirelessly to serve their communities throughout the course of the Covid-19 crisis."
Similar measures to introduce a separate offence for assaulting retail workers in Westminster have to date been rejected by the government. Tougher penalties for those who attack retail workers are set to be considered again in the House of Lords as part of the passage of the Police, Crime, Sentencing and Courts Bill on 14 September.