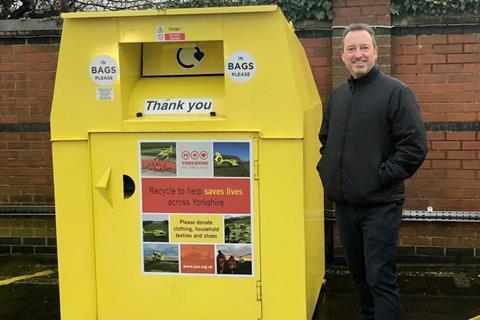 Yorkshire's air ambulance charity has thanked Top 50 Indie Sewell on the go for helping its helicopters remain in action.
Sewell on the go has Yorkshire Air Ambulance clothing banks in place at nine of its 13 sites across Hull and the East Riding.
Since the arrival of the first clothing banks in 2014, members of the public have donated 16 tonnes of second-hand clothing, shoes and household fabrics per year, which equates to more than £20,000 raised for the Yorkshire Air Ambulance charity.
Donated clothing ensures it is kept from landfill and is sold to trading partners in the UK and abroad to enable the charity to receive funds.
Patrick Sewell, managing director of Sewell on the go, said: "Yorkshire Air Ambulance is such a worthwhile charity, like many charities which need support and funding.
"We're so grateful to our customers and general members of the public for supporting this initiative and placing their unwanted clothing into the clothing banks.
"Recent times in particular have been very busy for the clothing banks because of the lack of charity shops open during lockdown. People have been at home more and had a chance to have a clear out."
Katie Collinson, corporate and partnerships manager at Yorkshire Air Ambulance, said: "The support we receive from Sewell on the go's customer base is massively appreciated.
"This is sustainable income for us and we know it's coming in year after year because Sewell on the go is a well-established business situated on well-used sites.
"It's so important for us to have these links within the community."
Yorkshire Air Ambulance partners with Recycling Solutions to provide the clothing recycling scheme. All items which are able to be re-worn are sent to secondhand markets all around the world where free and fair trade is available.
This fundraising initiative is the latest partnership between Sewell on the go and Yorkshire Air Ambulance.
Staff from Sewell Group, which Sewell on the go is part of, visited the charity's base in Nostell Priory in January last year and donated £1,275 following various team fundraising initiatives, including a Halloween-themed food event in 2019 and raffles.
Clothing banks are in place at Sewell on the go sites at Sutton, South Cave, Wyton Bar, Cottingham, Chanterlands Avenue, Beverley, Maybury, Willerby and Dunswell, and a phased rollout is planned for the remaining four sites.
Over the last 12 months, Sewell on the go has supported more than 60 charitable and community causes including Hull for Heroes, Hull Food Banks, Hull Animal Welfare Trust, Pocklington People's Pantry and The Sailors' Children's Society.