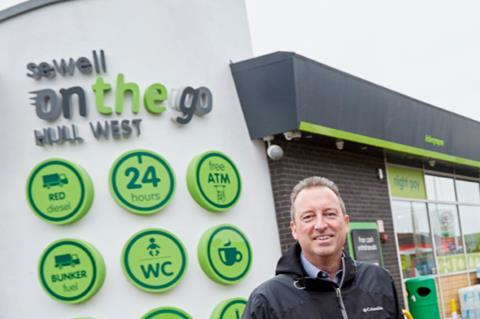 Top 50 Indie Sewell on the go and local rugby league team Hull KR are building on their support for local foodbanks with a new initiative at its stores.
The partners have previously provided a range of support and most recently a fund-raising effort over four matches raised more than £3,000 for East Hull and Beannie Street Foodbanks.
Patrick Sewell, Sewell on the go managing director, explained: "It has been great to partner up with Hull KR and East Hull and Beannie Street Foodbanks once again, working together to promote such an important cause to an even wider audience.
"Supporters could donate £1, £3 or £4 and receive pre-packed donation bags filled with what the foodbank currently needed. We had a huge increase in take-up on the donation bags this year, showing the importance of charities like these and we'd like to thank everyone who donated."
Following this success, Hull KR will join Sewell on the go to support its annual Big Local Harvest campaign from Monday 20 September to Sunday 17 October, where customers and staff are encouraged to buy an extra non-perishable item while shopping and place it in the donation basket at any of Sewell on the go stores across Hull and the East Riding, apart from Wyton.
Last year, more than £1,200 worth of items were donated including; more than 300 tinned items, over 200 bags of pasta, dozens more bags of rice, hundreds of toilet rolls, cereals, nappies, toiletries, tea bags, flour, sugar, tea, coffee, long-life milk, condiments, noodles, crisps and more.
Foodbank founder, Robbie Keane, said: "The donations from the Big Local Harvest last year helped more than 250 families, some of whom hadn't had food for two weeks.
"I find myself lucky that I don't have to use foodbanks, but for those who do, it is so vital, and these food parcels make such a difference to the families.
"Sewell on the go and its customers have done so much to support us and without them, those families would have to go without food.
"I have no doubt that this year's Harvest will be just as successful, and I'm truly humbled to be working with Sewell on the go and Hull KR once again."
During 2020, Sewell on the go supported more than 60 charitable and community causes including Hull 4 Heroes, Yorkshire Air Ambulance, Hull Animal Welfare Trust, Pocklington People's Pantry and The Sailors' Children's Society.