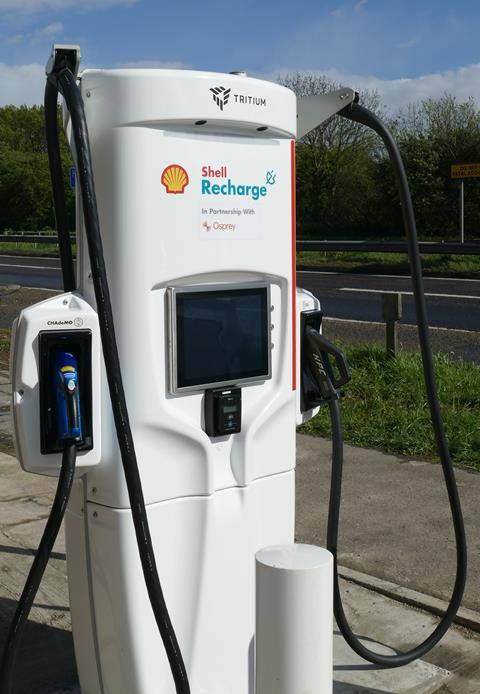 Shell has confirmed a partnership with Osprey Charging to install electric vehicle charging equipment at its dealer sites.
The announcement follows the installation of the first Shell Recharge EV charge point at a Shell dealer-owned site in the UK - Hovefield Service Station on the A127, Wickford, Essex.
The partnership is part of Shell's aim to develop an EV charging network for Shell dealer sites across England, Scotland and Wales. It means Osprey will fund, install and operate high-powered 175kW Tritium chargers under a lease arrangement, with all units operated under the Shell Recharge brand.
Osprey currently operates a public charging network in the UK of over 200 EV charge points, with charging capacities ranging between 50kW and 175 kW. The business secured £50m of funding in 2019 to deploy over 2,000 rapid chargers by 2024 and Osprey is targeting multiple Shell forecourts in 2021 to join the roll-out programme.
Launched in 2017, Shell Recharge is a subscription-free, on-forecourt EV charging service. Shell Recharge charge points range in charging capacity from 50kW to 175kW.
There are now more than 100 EV charge points made available at Shell forecourts across the UK. Shell aims to increase this to 200 charge points on forecourts by the end of 2021; and aims to grow its EV charging network to over 5,000 EV charge points on forecourts and in new locations by 2025.
All charge points – both those on Shell company owned sites and the Osprey Charging network – are supplied by 100% certified renewable electricity. It is certified by Renewable Energy Guarantees of Origin (REGOs), which means that all of the electricity Shell purchases to supply Shell Recharge points on company owned sites in the UK is matched with the equivalent amount of units from 100% renewable sources in the UK.
Bernie Williamson, Shell UK general manager, said: "For electric vehicle use to grow more rapidly, drivers need to feel confident that there are convenient and reliable means of recharging their vehicles when they are travelling. With Osprey supporting the development of our EV charging offer at dealer-owned sites, we will be able to continue serving busy customers at convenient locations as we aim to be the leading brand for on-the-go rapid charging."
Ian Johnston, CEO of Osprey Charging, said: "We are delighted to open the first Shell Recharge chargepoint operated by Osprey at a Shell dealer site. This partnership will help us to reach more EV customers through the Shell Recharge branded network.
He added: "We're delighted to be selected as the EV charging network partner for Shell's franchise dealer forecourts. We are targeting multiple Shell sites in 2021 to join our roll-out programme."