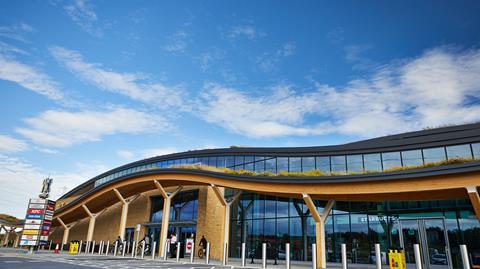 An all-day food marketplace that is inspired by farmers markets has opened at Extra MSA's new Leeds Skelton Lake Services, at Junction 45 off the M1.
Sourced Market's store at the site offers local artisan producers, food products and fresh produce can one-roof. It serves an all-day menu from breakfast pastries, bacon and lorne sausage rolls, filled brioches, grab & go sandwiches and salads, and artisan coffee.
There will also be access from Sourced Market's store to the outside terrace, for customers to consume their locally sourced food outdoors in the service area.
The store will also offer rotisserie chicken and made to order hot pasta, as well as a retail section where visitors can buy locally sourced flowers, teas, coffees, craft beer, spirits, biscuits, confectionery and gift hampers.
Scott MacDonald, managing director of Sourced Market, commented: "Sourced Market at Leeds Skelton Lake Services provides a unique hospitality and retail experience for both those travelling on the M1 as well as local residents in Yorkshire. Bringing together food and drink's most exciting innovators is part of our DNA and we're excited to be creating a foodie experience for those making journeys on the M1 as well as residents in Yorkshire. We enjoy discovering great products and love helping our customers discover them in turn. We're proud to be stocking a brilliant selection of local suppliers and food produce. We believe we have created a food and drink destination that's worth planning into your journey or taking the trip to if you're more local. We look forward to welcoming customers to Sourced Market."
Andrew Long, CEO of Extra MSA Group, said: "We're delighted to welcome Sourced Market to Leeds Skelton Lake Services – another significant first for motorway service areas in the UK. The Sourced Market team have worked tirelessly to source some fantastic brands local to the region, and will be creating jobs both directly for Leeds and indirectly in the regional supply chain for the wider region.
"The opening of Sourced Market double underlines Leeds Skelton Lake Service's already strong reputation as a great place to rest, relax and refuel. Visitors will be able to eat and drink local produce, while enjoying well designed facilities in an attractively landscaped lakeside setting, which has helped redefine what visitors can expect from a motorway service area."