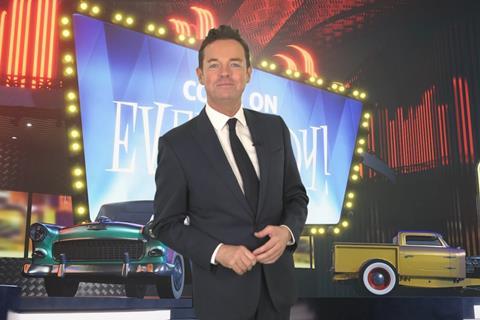 Tonight's the night when the Forecourt Trader of the Year 2020 and many other winners will be announced at 6.30pm at a 'virtual' event hosted on the Forecourt Trader website www.forecourttrader.co.uk.
Master of ceremonies is celebrity TV presenter, magician, writer and actor Stephen Mulhern. See his welcome here.
Stephen Mulhern is described as being one of the most 'in demand' television presenters today; with a string of smash hit television shows including 'Catchphrase' and 'Britain's Got More Talent'.
His unique style of comedy and presentation has made him one of the best-loved presenters in the country having performed for some of the most recognised people in the world, including Her Majesty The Queen.
Forecourt Trader editor Merril Boulton said: "We are very excited to welcome Stephen Mulhern to the latest Forecourt Trader Awards event. The Forecourt Trader Awards is 'the' night in the forecourt calendar when we recognise and celebrate the success of fuel retailers nationwide. It may not be 'Awards Night' as we know it but after one of the toughest years in living memory, and despite ongoing restrictions, we have done our best to create an amazing backdrop and a taste of the prestige in which these awards are held."
The most prestigious and respected awards in the UK's petrol retailing calendar seek out the brightest and best in the industry – those pushing the boundaries of hard work and innovation in the pursuit of excellence, and as in previous years, standards have been extremely high.
There were many categories to enter, covering all types of operation from rural operations to motorway sites; including specialist categories including Best Site Manager and Best Customer Service.
Excitement is building as a momentous evening approaches, and the fuel retailing industry is getting ready to watch to see who tonight's winners will be. The finalists are as follows:
SCOTLAND
• Up to 4mlpa
Jet Mascot Ardeer
Gulf Forfar
MFG St Johnstone
• 4mlpa plus
Bridgend Services
MFG Bellshill Service Station
Gulf Aikenhead
NORTHERN IRELAND
• Up to 4mlpa
Spar Fortfield
Maxol Portrush
Supervalu Lisburn
MIDLANDS
• Up to 4mlpa
Applegreen Spaldwick
Jet Adams & Sons
Rontec Daventry
• 4mlpa plus
The Stage, Leicester
Applegreen Spalding
Esso Sheringham
NORTHERN ENGLAND
• Up to 4mlpa
Jet Dove Retail White Rose
Spar Townsend Garage
Spar Hutton Rudby
• 4mlpa plus
Woodman Service Station
Jet Askern
Rontec Gateway
WEST COUNTRY & WALES
• Up to 4mlpa
Westacre Services
Blackhorse Emersons Green
Fraser's Budgens Brize Norton
• 4mlpa plus
MFG BP Cornish Gateway
Locks Garage
Wimborne Service Station
LONDON & SOUTH EAST
• Up to 4mlpa
Falcon Garage
Hopcroft Holt
MFG Esso Newington
• 4mlpa plus
Fraser's Budgens Three Mile Cross
Shell Little Waitrose Wheatsheaf
Spar Parkfoot Garage
BEST MOTORWAY SERVICES OUTLET
Shell Cobham
Shell Beaconsfield
MFG Esso Maidstone
BEST CAR CARE & LUBRICANTS OUTLET
Abbiecraig Services
Spar Ormskirk
Woodman Service Station
BEST COFFEE & HOT BEVERAGES
Frankley North Forecourt
MFG Barnetby
Westacre Services
BEST COMMUNITY ENGAGEMENT
Mulkerns EuroSpar
Frankley North Forecourt
Spar Bedale
BEST CUSTOMER SERVICE
Frasers Budgens Three Mile Cross
Mulkerns EuroSpar Newry
Spar Fortfield
BEST DESIGN & DEVELOPMENT
Supervalu Lisburn
Applegreen Whitley
Jet Askern
BEST FOOD-TO-GO OUTLET
MFG Bernetby
Blackhorse Emersons Green
MFG Leominster
BEST FORECOURT INNOVATION
Parkfoot Garage
Daly's Service Station
The Stage
BEST FORECOURT LOO
Abbiecraig Services
Esso Kip Hill
Frankley North Forecourt
BEST FORECOURT TEAM
Ascona Sickleholme
Esso Harleston
Esso Clerkenleap
BEST SITE MANAGER
Meera Sabeesan, Texaco Orpington
Ziheed Mohammed, Woodman S/S
Annette Gunnell, Applegreen Church Stretton
BEST SOFT DRINKS OUTLET
Frankley North Forecourt
Woodman Service Station
Abbiecraig Services
BEST VALETING FACILITIES
Overmonnow, Monmouth
MFG St Johnstone
Yeoman Service Station