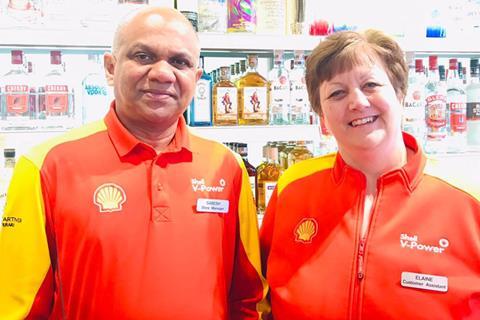 Top 50 Indie AKV Services has won the dealer category in Shell's has annual People Make The Difference Real awards (PMTDR), which it hosts to recognise and reward its retailers and dealers who have gone above and beyond.
Shell felt it was particularly important after such a challenging year to recognise the effort that went into keeping stations open, supporting communities around the UK and ensuring that customers still had access to fuel and essentials in a safe environment
To celebrate the top performing businesses, a shortlist of the best retailers and dealers were invited to a virtual ceremony with PMTDR awards presented to winners in five categories.
1. HSSE (Health, Safety, Security and Environment) Retailer of the year – Asad Wahid
Shell said: "Asad Wahid has proved his passion for consistently delivering a strong performance while embedding excellent HSSE behaviours in his whole team.
"Asad is a new retailer to Shell and took over his first station, Shell Orbital in St Albans, back in April 2020, right at the start of Covid, followed by four more stations later in the year in Hertfordshire and Luton. From the very beginning he ensured his team were fully trained in HSSE and encouraged them to share his passion for safety. He is continually striving to improve and ensure that he always delivers the best possible experience for all his customers."
2. Gold winning Dealers
1. AKV Services Ltd
2. Wharton Garage Ltd
3. Mitha Trafalgar & Co Ltd
4. Asif & Mohammed Hanif Patel
5. Master Garages Ltd
3. Gold winning company-owned station Retailers
1. Richardson Retailing Ltd
2. Select Service Stations Ltd
3. Petroshell Ltd
4. Fuel Convenience Retail Ltd
5. Ian Flynn
4. Overall winning dealer – AKV Services Ltd
Shell said: "AKV Services Ltd was a new-to-industry development that joined Shell in July 2019. The station AKV Sutterton Roundabout in Lincolnshire delivers a high quality Budgens branded offer and has become a firm favourite with locals and commuters. Managed by Sabesh Sivilingam and assisted by Elaine Allgood, the site has gone from strength to strength, delivering on the Shell KPIs consistently and continuing to delight their customers. Congratulations to owner Puvanasingam Vaseeharan and his team."
5. Overall winning company-owned station retailer – Petroshell Ltd
Shell said: "Sandip Chauhan is a vastly experienced retail operator and his passion for retailing runs all the way through his station teams. Through strong leadership, Sandip has been able to build an empowered, driven team around his cluster in Derbyshire. They excel in customer service and have a number of top supervisors and customer service champions who have previously been recognised at various award events.
Station staff were also recognised and Donna Lindsey and Helen Gibson were the winners of the Customer Service Champion of the year and Station Manager of the year respectively. Both work at Shell New York Road in Newcastle upon Tyne.