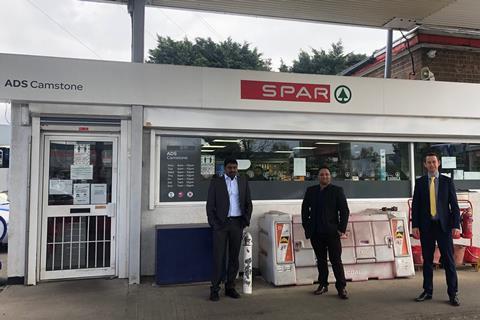 Top 50 Indie Karan Retail has expanded its estate with the addition of Camstone Service Station, in Whetstone, Leicestershire.
The freehold of the site was sold by specialist business property adviser, Christie & Co, acting on behalf Amar Shah of Midlands UK, and the deal grows Karan's portfolio to a total of 18 sites.
Camstone Service Station was acquired by Amar Shah through Christie & Co in 2012 and includes a Flames-branded takeaway, hand carwash and MOT/car servicing business. The fuel was supplied by Valero under the Texaco brand and Spar supplied the store.
Christie & Co was instructed to confidentially market the site in August 2020 and following a short marketing campaign that attracted multiple offers, Top 50 Indie, Karan Retail Limited, was selected as the successful bidder.
Established in 2007 with the aim of becoming a leading UK forecourt operator, Karan Retail was ranked number 13 in Forecourt Trader's 2021 Top 50 Indies list. The sale marks the groups second acquisition in Leicester, having recently purchased Houghton Garage on the A47 in Leicester in February 2020.
Dave Morris, director in Christie & Co's retail team, handled the sale and commented: "The forecourt market has remained resilient despite the various challenges that the pandemic has presented. Most operators have experienced a reduction in fuel volumes, but an increase in fuel margins and better shop sales has helped to compensate for this.
"With fuel volumes already back to 95% on pre-Covid levels it is likely that the market will remain unchanged for the foreseeable future. It was a pleasure acting for Mr Shah on this sale and I wish him all the best with his new business venture."
Amar Shah commented: "Having been able to develop Camstone Service Station into a successful business over the past nine years, this site proves with infrastructure investment and significant changes, small forecourts can be very profitable. I am sure Karan Retail will find it to be a lucrative addition to their portfolio and I wish them success in the future. I would like to thank Christie & Co and in particular Dave Morris for ensuring this deal went through smoothly and successfully."
Karan Retail director Sivasubramaniam Suthakaran added: "I am delighted to have finalised our second purchase in Leicester over the last 14 months. We are changing the convenience store onsite to a Londis-branded shop but are continuing the fuel supply arrangement with Texaco. I would like to thank Dave from Christie & Co for his help during the process and wish Mr Shah all the best with his next business venture."