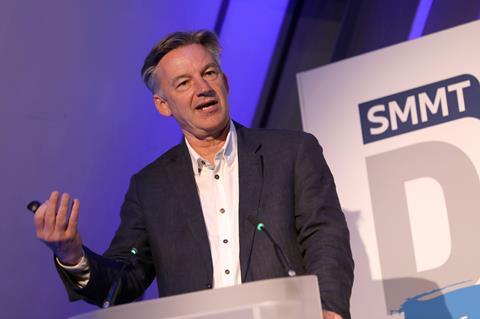 We are already well on the way to transforming an industry built on the combustion engine to one built on electrification, according to Mike Hawes, chief executive of the Society of Motor Manufacturers and Traders (SMMT).
In an online presentation that replaced the SMMT's annual dinner, Hawes talked about the "challenge of a decade".
"Last week government published its 10-point plan for a green industrial revolution," he said. "But to complete the job in under a decade – that's no easy task. We have to accept we are an industry much talked about but seldom understood. And we will change that."
He said the SMMT had a three-point rather than a 10-point plan: "First, show consumers the money. New technology is expensive. Make the grant competitive, make EVs tax free, help us make them affordable for all.
"Second, make charging as easy as refuelling. Residential charging – public charging – must go further and faster. Much, much faster.
"And thirdly, assure the green industrial revolution is 'Made in Britain'. Provide the investment and competitive conditions to support manufacturing.
"Three points to deliver. We are up for the challenge. But we need everyone to step up."
Dr George Gillespie, the SMMT's president, said that on the subject of climate change, some politicians like to paint the automotive industry as environmental footprint of cars, buses and trucks.
"The Road to Zero is one our industry was walking along before many of today's advocates had even found it on the map.
"Our part of the green deal is to develop the technology, and to bring it to market.
"To do that we need a bold strategy to transform automotive production in the UK, to attract new investment, upskill our workforce, build world-leading battery Gigafactory capability to future-proof our manufacturing. We need strategic R&D investment at a globally competitive level.
"And we need bold, long-term incentives, ambitious mandates on infrastructure spending – if we're to bring the consumer with us. Mass market matters and we are not there yet.
"We have invested, we continue to invest. We now need others to step up and join us.
"We can build back greener; but we must build back together."