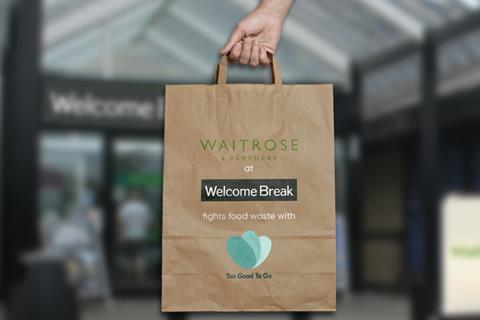 Motorway services operator Welcome Break has partnered with Too Good To Go, the surplus food app, to reduce food waste.
Too Good To Go allows users to buy unsold food from restaurants, retailers and producers rather than letting it go to waste.
The partnership has started at 10 Waitrose & Partners stores across Welcome Break service areas with the hope of expanding across more sites and brands in the future.
To buy the surplus food, consumers need to download the free Too Good To Go app and search for a nearby participating Waitrose & Partners with unsold food. App users then purchase a 'Magic Bag' and collect it at an allotted time.
Martyn Brett-Lee, commercial director at Welcome Break said: "At Welcome Break, we are increasingly mindful of playing our part to help combat food waste and we are thrilled that this partnership will facilitate our efforts to do so. We look forward to this partnership commencing and are excited to see it grow and develop."
Paschalis Loucaides, UK country manager at Too Good To Go commented: "Partnerships are key in our fight against food waste so I'm thrilled to have Welcome Break join our movement.
"Together we have a great opportunity to reduce food waste from its onsite food outlets and take one bite at a time out of the UK's food waste issue.
"I know our app users are going to love rescuing the delicious produce from Welcome Break's Waitrose & Partners stores when they go live this week."