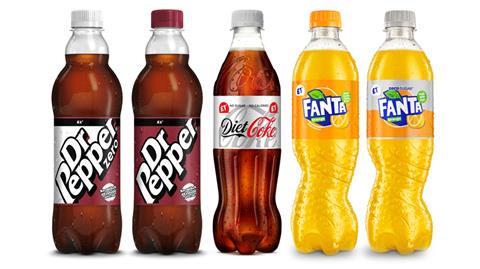 Coca-Cola European Partners (CCEP) has reduced the recommended price points for some of its 500ml bottle price-marked packs (PMPs) for a limited period of time, and says it is trying to help convenience retailers drive sales of on-the-go formats and tap into the consumer demand for value.
The 500ml bottles of Diet Coke, Fanta, Fanta Zero, Dr Pepper and Dr Pepper Zero – including their respective flavoured variants – will be available for a limited period of time in a £1 PMPs from the middle of November. The recommended price point has been sharpened by 15p to enhance the appeal to shoppers.
Alison Adderley, field sales director at Coca-Cola European Partners, commented: "While sales of larger, sharing packs of soft drinks have increased in recent months due to more consumption taking place in the home, a consequence of people making fewer, more planned shopping missions is that on-the-go sales have slowed.
"Many consumers are increasingly focused on saving money at the moment. PMPs offer visible value, reassuring shoppers that they can get the products they want, at an affordable price. That's why we're introducing this short-term measure to help stimulate impulse sales for our convenience customers while offering recommended price points across some of our best-loved brands that are appealing to shoppers."
Earlier this summer, CCEP reduced the recommended price points on its 1.75l PMPs of Coca-Cola zero sugar and Diet Coke, and its 1.5l PMPs of Coca-Cola original taste. 500ml bottles of Coca-Cola Zero Sugar – including the cherry and vanilla variants – and Diet Coke flavours (Sublime Lime and Twisted Strawberry) were also included. With the latest changes, this means that all CCEP light cola's and flavoured carbonates are available in a £1 price-mark for a limited period.
Plain packs are also available.