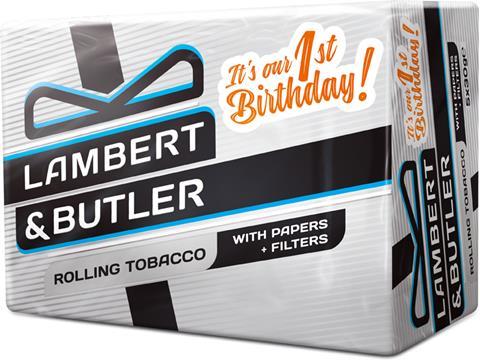 Imperial Tobacco has announced the launch of two new formats and a limited-edition design for its Lambert & Butler Roll Your Own (RYO) range to celebrate one year in the market.
Launching exclusively into the independent channel, the limited-edition packs are available to buy now in 30g and 50g formats with MRRPs of £12.80 and £21.00 respectively.
Launching in a branded trade outer that celebrates the milestone, both of the limited-edition packs will benefit from an improved freshness seal, to help keep the product fresh for longer.
The 30g will also offer additional value for money with the addition of 60 filter tips and 60 high quality papers, while the 50g will include 100 papers.
Chris Street, market manager UK at Imperial Tobacco, commented: "Despite launching into the market just over a year ago, Lambert & Butler has already grown to become one of our fastest growing Roll Your Own brands. Lambert & Butler RYO is a quality brand with a long-standing heritage and with demand for value tobacco continuing to rise, we've seen incredible YOY volume growth of 28%.
"We're really excited to be celebrating this milestone with the launch of our new limited-edition packs and delivering even greater value to both our retail customers and their shoppers with this new combi offer."